The Matter of Black Lives - Workshop (March 4-6, 2017)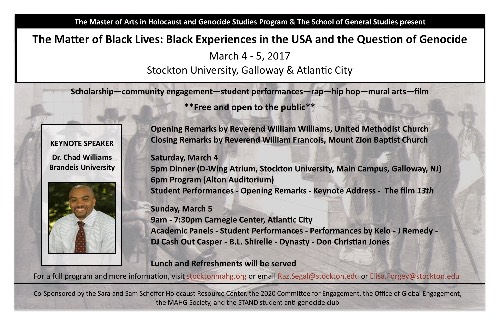 Raz Segal and Elisa von Joeden Forgey, on behalf of the Master of Arts in Holocaust and Genocide Studies Program, would like to officially thank everyone who made the Matter of Black Lives workshop possible and such a success. The event drew a strong crowd on both days -- about 75 people on Saturday night and 50-65 at any given time on Sunday. More importantly, the workshop was a significant first step in developing a partnership between our program and members of the African-American community in Atlantic City, one that has real promise to grow and create powerful projects that are of mutual benefit to everyone involved.

They wish to extend particular thanks to President Harvey Kesselman, who took time out of his very busy schedule early on a Sunday morning to attend the first two panels. Such support is a great boost to the work that we are all trying to do and a strong message of Stockton's commitment to community engagement in Atlantic City. We were honored to have him with us and look forward to his continued support in the future.

Stockton faculty (Janice Joseph, Betsy Erbaugh, Donni Allison, Jess Bonnan-White, Christina Jackson), Dean Rob Gregg, and our gracious guest scholars from around the country (Susan O'Donovan, Al Frankowski, and Lissa Skitolsky), laid a very strong intellectual foundation for lasting dialogue on genocide and the black experience in the United States. Our keynote speaker, Chad Williams, delivered a powerful talk on "Responding to Charleston: The Practice of African American History in the Black Lives Matter Moment." Stockton Students Jade Fleming, Tatayania Robinson, Naijasia Thomas, and Megan Coates, as well as Nataliia Maciejewski, gave incredible spoken word and multi-media performances. The artists and performers who came from PA, NJ and NYC were absolutely necessary to the success of the day. Their talent and their perspectives -- moving, incisive, conceptually rich -- are irreplaceable and will continue to play an important role in our work going forward. The opening and closing remarks by Reverends Williams and Francois offered deep insights into the subject and reminded us of the long histories of genocidal dynamics in our own society. We absolutely cannot thank the reverends enough for giving us such strong and supportive bookends to the event.

Raz and Elisa plan to capitalize on the momentum by holding another, smaller event this spring and one in the fall, before they hold the second workshop in spring 2018. The results of all of this work will be collected in a book and also become the basis for other concrete projects, such a new middle and high school curriculum resources, new courses at Stockton, new program collaborations at Stockton, and continued community events around the subjects of genocide and human rights.

Finally, they would like to extend a special thanks to the workshop's sponsors, without whom it would never have been possible: The General Studies Program, the 2020 Committee for Engagement, the Office of Global Engagement,The Sara and Sam Schoffer Holocaust Resource Center, the MAHG Society, the undergraduate STAND anti-genocide club, and the Holocaust and Genocide Minor. We must also thank Sarah Albertson, Program Assistant in the Holocaust Resource Center, and Kirsten DiPatri, Budget Unit Processor in General Studies, who were instrumental in pulling everything together and who always go well beyond the call of duty for the success of MAHG Program.

They are very much looking forward to reconvening in 2018!




Elisa von Joeden Forgey
Dr. Marsha Raticoff Grossman Professor of Holocaust Studies,
Director, Master of Arts in Holocaust and Genocide Studies (MAHG) Program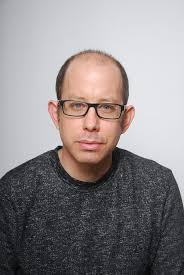 Raz Segal
Assistant Professor of Holocaust and Genocide Studies
Sara and Sam Schoffer Professor of Holocaust Studies