Become a Member
School Membership & Services
The Southern Regional Institute and ETTC welcomes all school districts to join our successful consortium. The consortium brings together 81 public school districts, non-public and charter schools, not-for-profit and affiliate organizations from five counties across New Jersey. A school district can join our organization or utilize our services in several ways: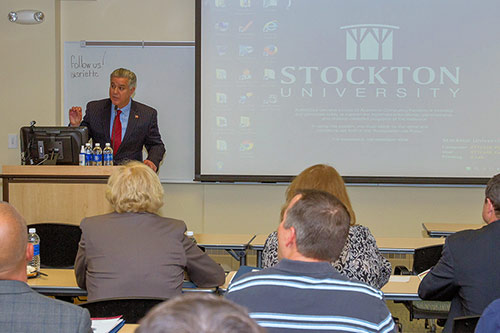 Become a member: Southern Regional Consortium members pay an annual per-student membership fee, and receive an annual allocation of ETTC Hours that can be used to register for almost all our workshops or for other related services requested by the district.
The ETTC Calendar lists all current workshops, and members often schedule additional workshops onsite to meet district in-service needs or to provide after-school professional development options for their staff. School district members enjoy other membership advantages as well.
To join the ETTC Consortium, please prepare a written request on school letterhead to the Southern Regional Institute & ETTC, Stockton University, Parkway Building, 101 Vera King Farris Drive, Galloway, New Jersey 08205 requesting membership. Please include in your letter the number of enrolled students for the district. Membership is based on the number of students as of the October 15 ASSA on-roll PreK-12 count. This can be emailed to ettc@stockton.edu. We will confirm your membership request and your teachers can begin registering for ETTC workshops almost immediately. If you join mid-year, your district will be billed immediately. All member districts are renewed annually on July 1 and billed by Stockton University at that time.
Purchase training through ETTC Hours: Teachers from non-member school districts can register for the general calendar of ETTC workshops through the use of a purchase order, personal check, or credit card. Districts may also purchase a block of ETTC Hours to be used for individual registrations or custom services. This can be requested online. Purchasing ETTC Hours is a cost-effective method for planning professional development in advance through the school year and is helpful for grant-writing and budgeting purposes as well.
Purchase custom training: School districts can contract with the ETTC for any of our workshop topics to be conducted onsite and to be customized to the technology, curriculum and scheduling needs of the district. School districts can purchase training ahead of time through a purchase order that includes the number of ETTC hours requested, with the understanding that training times and content will be scheduled later to meet the needs of the district and of the ETTC. Custom training time can be purchased online. These purchased hours do not expire for two years so there is sufficient time to plan and schedule programming.
To learn more about any of these options, or for a membership quote, email ettc@stockton.edu.
Options for Non-profit and Local Government Organizations
The Southern Regional Institute and Educational Technology Training Center (SRI&ETTC) is a consortium of 81 public school districts, charter schools, non-public schools, not-for-profit, and affiliate organizations in Atlantic, Cape May, Cumberland, Ocean, Burlington and Camden counties administered by Stockton University. The SRI&ETTC provides professional development through a public calendar of workshops as well as custom onsite events, and one-on-one coach/mentoring. The SRI&ETTC also provides services in the preparation of grant applications, program evaluation services, strategic planning and curriculum support.
Please contact us for information about this membership option:
Barbara.Hagerty@stockton.edu
How do ETTC Hours work?
The SRI & ETTC provides several hundred workshops each year. Members can register for almost any workshop using ETTC Hours. In general, the cost for a full-day public calendar workshop for one person is 7 ETTC Hours. For customized training in a group setting, the cost is 9 ETTC Hours for every clock hour of training. Member organizations can request onsite ETTC training by using ETTC Hours and avoid the process of generating a separate Purchase Order, thus saving time and money. Workshops available at the SRI&ETTC facility are listed online on the public calendar page of our website.
Advantages of SRI&ETTC Membership:
Exciting Public Calendar workshops offered all year long for members.
Onsite customized professional development
No purchase orders needed for each additional workshop - use ETTC Hours instead
Cancellations and substitutions are easy
Registrations may be submitted online
Savings in transaction costs are tremendous.
How do you join?
Please send a letter on agency letterhead via mail (address shown below) or email (Barbara.Hagerty@stockton.edu) indicating that your organization wishes to join the SRI&ETTC Consortium. Please include in your letter the number of employees. Membership is based on the number of employees in your organization or agency.
If sending via mail, please send letter to:
SRI & ETTC
ATTN: Barbara Hagerty
Stockton University
101 Vera King Farris Dr.
Galloway, NJ 08205
Allocation of ETTC Hours is based on the following principles:
Each district receives ETTC Hours in

direct proportion to the number of students

in the district as defined by the state's On-Roll ASSA count.

Smaller districts

receive sufficient hours so that a "critical mass" of staff can benefit from professional development.


Districts can spend their ETTC Hours throughout the fiscal year.
Frequently Asked Questions About Hours(FAQ)