Bacharach Gift Signing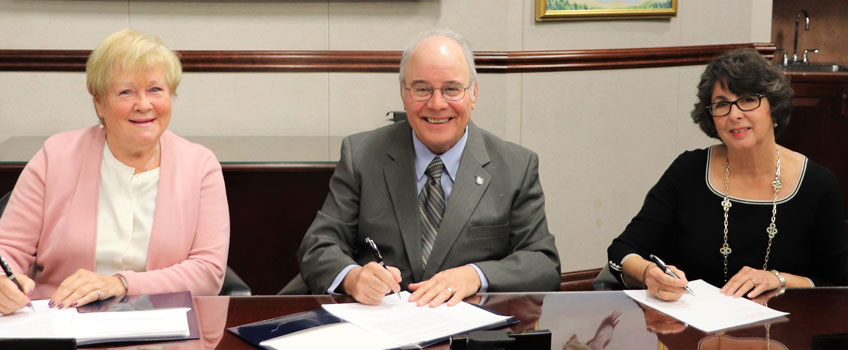 On Monday, December 17, 2018, Dr. Kesselman and Dr. Johanna Johnson, chair of the Foundation Board of Directors, welcomed Ronnie Bacharach, widow of Howard Bacharach and Maureen English to sign a gift agreement creating the Howard Bacharach Memorial Scholarship. The endowed fund, supported through gifts raised by the Howard Bacharach Scholarship Foundation and many of Bacharach's friends and colleagues, will benefit students in Stockton's Hospitality and Tourism Management Studies program.
Bacharach discussed the special meaning of creating an endowed scholarship at Stockton. "I wanted to keep his memory alive. He was born and raised in Atlantic City and the area meant so much to him," she said.
"We could not be more thrilled to be able to steward this scholarship for as long as there is a Stockton," remarked Kesselman.
Bacharach was a well-known member of the South Jersey community, having served for more than a decade as the executive director for the Atlantic City Hotel and Lodging Association. He also coordinated many fundraisers to provide scholarships for area students.
In addition to his role with the Hotel and Lodging Association, he served on numerous boards and committees including Seashore Gardens Living Center, Atlantic Cape Community College Hospitality Management Advisory Council, the Atlantic County Improvement Authority, Atlantic County Institute of Technology Advisory Board, Institute for Human Development Board Member, Greater Atlantic City Region Tourism Council member and the Stockton University Hospitality Management Advisory Board.
"Howard was a true believer in education… I am so happy and proud to be here today as we honor him," said Johnson.
---
About the Stockton University Foundation
The Stockton University Foundation supports the philanthropic needs of Stockton University. The Foundation provides leadership and oversight and is responsible for raising, stewarding and distributing its assets. The Foundation manages a robust scholarship program, awarding more than $800,000 annually to deserving Stockton students. In addition, the Foundation supports a wide variety of programmatic, research, capital, student life and other projects at Stockton. Learn more about the Stockton University Foundation.