Bird's-Eye View
Meet this month's Bird's-Eye View
Alexander Sacchetti '13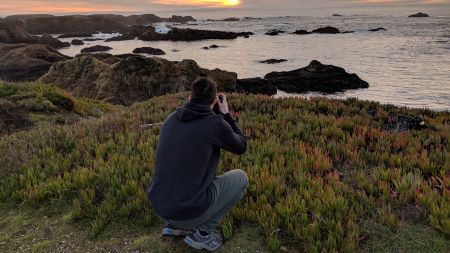 NAME:
Alexander Sacchetti
DEGREE:
Bachelor of Science in Biology
JOB TITLE:
Product Marketing Manager working on the Waze Ads team in the Sales Engineering sector of the business. Alexander works on product intelligence and measurement helping his team make data-driven decisions. His day-to-day work includes making sure he is supporting the sales org with accurate product information and collaterals for them to use in their go-to market strategy.
FUN FACTS/HOBBIES:
I grew up in Margate City NJ fishing, surfing and being outdoors as much as possible. I am an avid outdoorsman and there's nothing I love more than spending a day on the beach. If I end up with any free time, you can find me walking the sod banks fishing for striped bass.
How did your Stockton experience influence your life?

Stockton is an amazing institution that challenged me to complete the tasks I set out to achieve. The smaller sized personal learning environment helps establish a connection with your peers and professors. Coming to the scenic campus each day was a routine I loved especially being able to step out to Lake Fred between class. Being organized helps a lot in my field of work with balancing key objectives and prioritizing objectives to drive business ahead..

How did your academic program impact your Stockton experience and career?

The Biology undergraduate program was challenging and consistently pushed you to think critically. My academic career laid the foundation for my professional career and I realize every day the experience itself was integral to my success. The hierarchical nature of biology plays a major role in my daily data science work. Thinking outside the box in a nurturing environment at Stockton helped ease the pressure of the lofty criteria set forth in any undergraduate collegiate program.

Describe your favorite Stockton memory as a student. (Ex: favorite professors, classes, events, activities, etc.)

My favorite class was Wildlife Biology with Dr. Daniel Hernandez. We spent time outdoors and the very class sparked an app idea I rolled out in 2013 called Fish Circle. This was a great example of creativity being fostered through an amazing learning environment. Through this experience I was able to advance my digital marketing and leverage my natural entrepreneurial skills in an effective way. In my view this is what college is all about. It is a time to make mistakes, test new ideas, learn from them and best position your hard and soft skills for the post undergrad world.

What piece of advice would you pass onto the graduating class of Ospreys?

A great entrepreneur and Googler alike once told me "Give back". As simple as that, and ever since I heard that, I realized that helping others succeed helps us all succeed (for the most part). Valuable information you can gather from someone else's experience is critical in this fast-paced game of life. You simply do not have the time to learn everything, but you can make connections and extract the stuff that really matters.

Is there anything else you would like to share with Stockton and your fellow Ospreys?

Don't focus on being perfect; just do your best to create opportunities. Make sure you are objective in your decision making. Always provide a cover letter and a resume tailored to the job you're seeking. Stay positive, grow each day and don't let negativity from others slow you down in seeking your goals.