Bird's-Eye View
Meet this month's Bird's-Eye View
Dave Werner '02/M.A. '08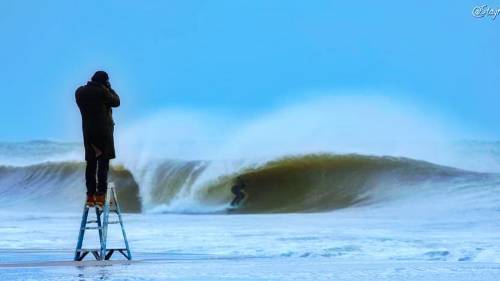 Photo credit: Matt Reitinger '08 (@stayabovetheweather)
NAME:
Dave Werner
DEGREE:
B.S. Marine Science & B.A. Teacher Education (Biological Science); M.A. Secondary Science Education (Supervisory Certificate completion in 2014)
JOB TITLE:

Adjunct Professor of Marine Science at Stockton University - created and teaches Science of Forecasting Waves (GNM1136) and also teaches The Environment and Film (GNM2157) and Beaches (GIS3612).
FUN FACTS: Surfing is my main passion. I have been surfing for 27 years. I also love to fish and spearfish. Being underwater and seeing the fish in their natural habitat is a surreal experience. Spearfishing also helps me focus on conservation because you can be selective in deciding what to take from the sea! I have an amazing wife and two incredible daughters who also love to surf and fish! Traveling is also another passion of mine. I have traveled the globe chasing waves and fish! I also teach full time at the Marine Academy of Technology and Environmental Science (MATES) in Manahawkin. I was fortunate enough to be part of the Oyster Farmer's Film and represent both MATES and Stockton University!
How did your Stockton experience influence your life?

As a Stockton student I was able to meet so many amazing professors. Stockton provided an intimate setting which fostered friendships and higher-level learning. I spent a semester during my junior year studying abroad at the University of Wollongong in Australia; Stockton provided me with this experience that changed my life! I surfed in New Zealand, Australia, and Indonesia on that trip. I was able to meet new people and become immersed in unique cultures. I would highly recommend the study abroad program.

How did your academic program impact your Stockton experience and career?

I learned a lot from my professors in the science and education programs. I remember the positive influence from Matt Landau and Rich Hager. I also want to thank Dr. Kim Lebak for hiring me in 2009 to teach the science education course. That experience allowed me to be part of the Stockton family in a different way!

Describe your favorite Stockton memory as a student. (Ex: favorite professors, classes, events, activities, etc.)

I will never forget meeting my first roommate, Horace Knight! We had some great times in I-106! "We''ll leave the light on." I remember skateboarding to class from G-Court! Taking Ichthyology in the summer with Rudy Arndt. I think Rudy had us seine every water body in south Jersey! Digging for ribbon worms in Marine Biology class with Rich Hager was a lot of fun too! I also spent a lot of time surfing LBI, AC, and Ocean City before and after classes!

Describe your top reason for staying connected and involved with Stockton and your fellow Ospreys.

Stockton University has always welcomed me, and I feel a strong connection with the staff and students. Stockton offers so many incredible opportunities for staff, students, and the community. I absolutely love teaching at the Manahawkin Instructional Site. Michele and Nicole have been super supportive since day one.

What piece of advice would you pass onto the graduating class of Ospreys?

Always know that Stockton is family! Please come back and share your stories. Choose a career that you love. I love what I do and go to work every day with a smile on my face. I chose education because I know I can have a positive impact on future generations and the planet!

Is there anything else you would like to share with Stockton and your fellow Ospreys?

Be passionate in whatever you do. Always remember the environment with every decision you make. It is your job to make the Earth a better place!