Stockton Turns 50
Stockton Turns 50
Join Stockton in celebrating a half-century of teaching
By Diane D'Amico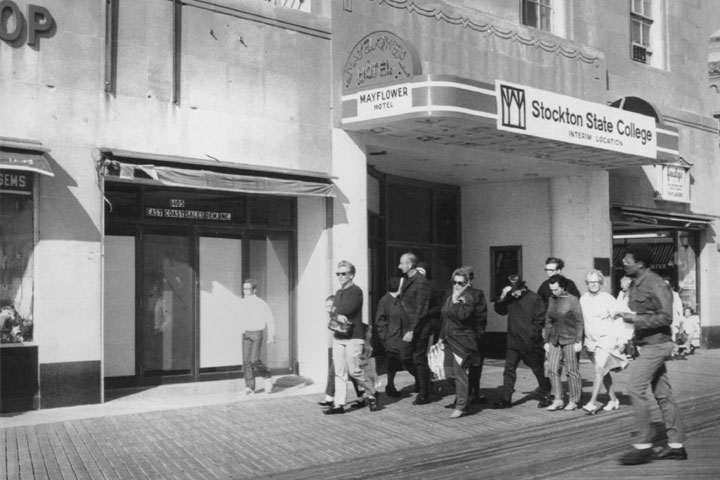 What do you remember about your time at Stockton?
Maybe you were a member of that very first group of 1,000 students who attended class at the Mayflower Hotel in Atlantic City in Fall 1971.
Or maybe you were the first to live in new student housing in Galloway or played in the first basketball game in "Big Blue."
A lot has happened at Stockton in the last 50 years, and starting in the fall, the University will celebrate 50 years of teaching with programs and events throughout the academic year.
That first class of 1,000 has grown to more than 60,000 alumni, many of whom have helped shape the future of South Jersey and the state.
A 50th anniversary committee has been busy planning the celebrations, and we hope you will join us by sharing your stories or attending events.
We've set up a special website where you can learn more about Stockton at 50 and share a memory or two of your own.
If you haven't been back in a while, you may be amazed at how the campus has grown – from the new Academic Quad to the Atlantic City campus. We may no longer have a swimming pool in Galloway, but we do now have an ocean, right outside beachfront residential complex in Atlantic City.
You can also see what hasn't changed – the tranquility of Lake Fred, having class outdoors, and the thousands of trees that shelter herds of deer and the occasional resident feline.
Over the next year we will be looking back, but also looking forward to what the next 50 years might bring.
We hope you will join us on this journey and look forward to seeing you on campus. If you can't get here, share a Stockton story at stockton.edu/50.
Learn more about Stockton's 50th Anniversary