Osprey News

Men's Basketball Magical Season ends in NCAA Sectionals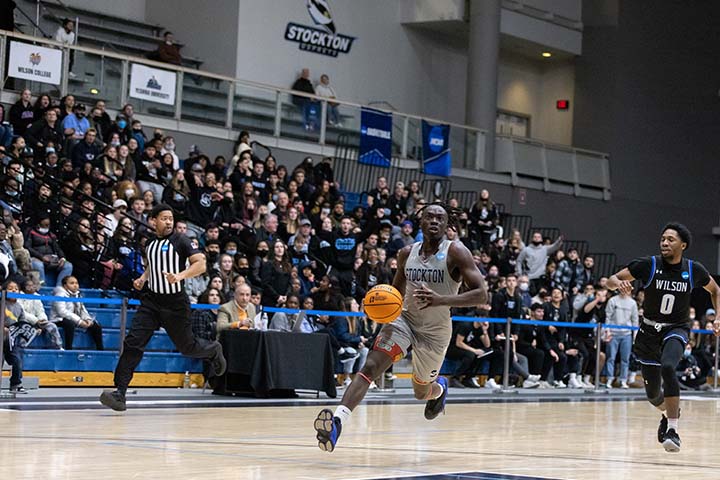 Stockton University (26-5) saw one of the best men's basketball seasons in school history come to an end with a 93-54 defeat to #4 Christopher Newport (27-2) in the sectional round of the NCAA Tournament this past March. The Ospreys were playing in the sectionals for the first time since 2014.
The outcome ceased a magical season in which Stockton tied the second-highest win total (26) in the program's 50 seasons, finished first in the NJAC regular season standings, won the NJAC championship for the first time since 2016 and won two NCAA Tournament games.
DJ Campbell scored a team-high 12 points and finished the season with 618 markers, the second-highest season total in school history (Carl Cochran, 671 points, 1995-96).
Kyion Flanders also hit double figures with 11 points. Rynell Lawrence contributed eight markers and a team-high eight rebounds, while Alan Glover finished with seven points.
Highlights & Accolades
Osprey Mania
The Ospreys began their NCAA Tournament journey with home-court advantage as Stockton was selected to host first and second round games on March 4-5. Stockton defeated Wilson College 87-52 following Johns Hopkins' win over Yeshiva. The Ospreys advanced to the Sweet 16 with a 70-63 victory over Johns Hopkins.
Head Coach Scott Bittner
New Jersey Athletic Conference (NJAC) Coach of the Year
National Association of Basketball Coaches (NABC) District 4 Coach of the Year
DJ Campbell
NJAC Player of the Year
NJAC First Team
NABC Division III First Team All-American
NABC District 4 Player of the Year
NABC District 4 First Team
Eastern College Athletic Conference (ECAC) Player of the Year
All-ECAC First Team
D3hoops.com All-Region 4 First Team
Kyion Flanders
NABC District 4 Second Team
NJAC Defensive Player of the Year
NJAC First Team
All-ECAC Second Team
Kadian Dawkins
---
Pascrell Scores 100th Career Goal in Win Over Widener; Breaks Single Season Record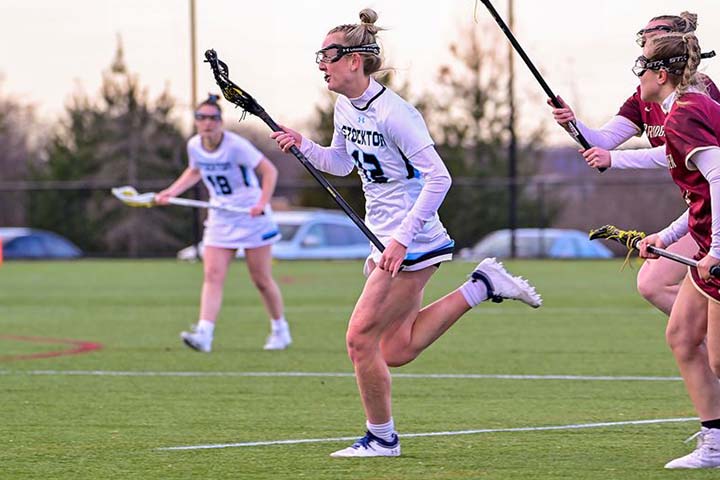 Stockton's women's lacrosse team used a big-scoring second period to defeat Widener University by a score of 11-6 on March 23. Michelle Pascrell scored five goals, including the 100th of her career to lead the Ospreys.
Pascrell opened the scoring just 42 seconds into the contest on an assist from Holly Yannacone for a quick 1-0 lead. The Pride answered back just over a minute later to knot the game at 1-1.
Casey Shultz scored twice, Yannacone, and Pascrell all scored markers before Allie Bremer ended the outburst with a goal from Shultz for the five-goal margin at the break.
A pair of goals by Widener to open the third quarter sliced the lead to 7-4 before Pascrell scored her milestone goal at 6:39 of the third period. Shultz added another tally 34 seconds later to regain the five-goal margin at 9-4 after three periods.
Pascrell later broke the Stockton single-season goal record when she notched her 52nd goal of the season in a loss to Kean on April 30. In that same match, Jennifer Toal broke the 100-point barrier for her career.
---
Schiattarella Tosses Perfect Game in Stockton Split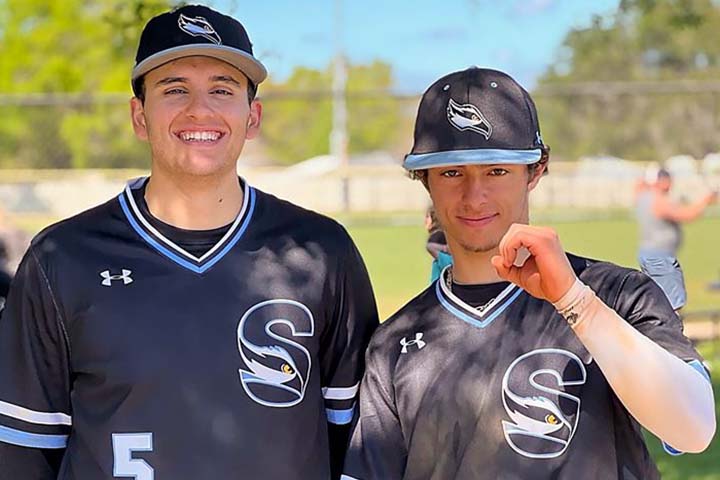 Stockton University split a seven-inning doubleheader with Western New England University during a spring break trip in Auburndale, Florida, dropping the first game 6-5 in extra innings before rebounding with a 9-0 shutout in the nightcap on March 13. Mike Schiattarella tossed a perfect game with 14 strikeouts.
He struck out the first eight batters he faced and later closed the door by fanning six of the last nine in facing the minimum 21 hitters. The perfect game was the first-ever by an Osprey and the 24th in NCAA Division III history.
Schiattarella earned his second win of the year, tossed his third complete game and lowered his ERA to a minuscule 0.90. The junior has struck out 38 hitters in just 20 innings thus far.
Stockton Runs Away with CSAC Championship, Advances to NCAA Second Round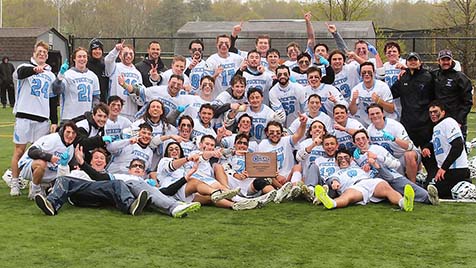 Stockton University Men's Lacrosse team scored six goals in the first seven minutes and defeated Montclair State by a 25-8 score on May 7 to win the program's second Colonial States Athletic Conference (CSAC) championship. With the victory, the Ospreys earned an automatic bid to the NCAA Tournament.
Luc Swedlund led the Ospreys with seven goals and was named MVP of the CSAC championship game for the second time (2022, 2019). Dante Poli tallied three goals and six assists for a game-high nine points.
The Ospreys hosted UMass Boston in the first round of the NCAA Division III Tournament on May 11. The game started with a tight first period, with Stockton leading 4-3 after one frame. Poli got the home team on the board before two straight markers by the Beacons pushed them to a 2-1 lead with 4:50 left in the stanza.
A pair of goals by Swedlund on assists by Poli, and a marker from Reegan Capozzoli offset another score by the visitors to give Stockton a slim one-goal margin at 4-3.
Stockton broke the game open in the second quarter with seven straight goals by six different players to start the stanza. Two goals each by Sean Haddock, Swedlund and Poli propelled the Ospreys to a commanding 14-4 advantage heading into the half. Stockton advanced to the second round of the tournament with a 26-11 win. The team fell to No. 1 ranked Salisbury, 22-13. In the second round on May 14.
Post-Season Honors
Dante Poli – CSAC Player of the Year
Kevin Zulauf – CSAC Coach of the Year (his third straight!)
Poli, Luc Swedlund, Brendan Scanlon, Tyler Horvath – First Team All-CSAC
Logan Holleritter, Eric D'Arminio, Brenden McSorley, Evan Hilla – Second Team All-CSAC
Eric Lindskog, Jared Long, Reegan Capozzoli, Sean Haddock, Hayden Smallwood - Honorable Mention All-CSAC
Matt Thermann was Stockton's choice for the CSAC All-Sportsmanship Team.
---
Rocket League Team Takes Second in World Championship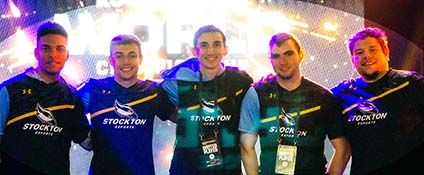 Stockton University's Rocket League esports team is now second in the world following its impressive showing at the Collegiate Rocket League World Championship Tournament in Dallas, Texas, on June 3-5.
The team of captain Brian Busse of Hazlet, Trey Batson of Manahawkin and John Merendino of Hauppauge, New York, were one of 16 teams that qualified for the international competition. The event, the first collegiate international finals, was part of the DreamHack gaming festival and attracted more than a million viewers in person and online over the weekend.
"I'm happy we got second, but then I'm also unhappy we didn't get first," Busse said on Monday as the team prepared for the trip back to New Jersey. "But we did what we came to do."
---
Wan Earns All-America Spot & Sets School Record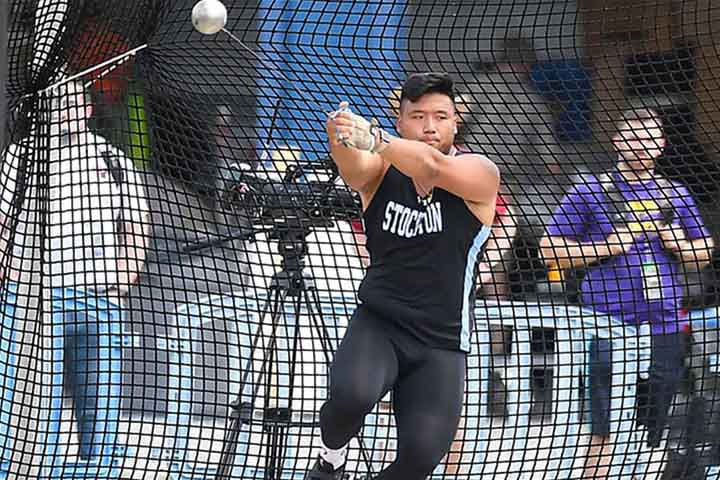 Stockton University seniors Darren Wan and Keith Holland competed on day three of the 2022 NCAA Division III Outdoor Track & Field Championships at SPIRE Institute on May 28. Wan earned All-American status by finishing sixth out of 20 in the hammer throw.
Wan unleashed a throw of 58.25 meters on the fourth of his six attempts. The distance broke his own school record of 58.17 meters from last year and resulted in a sixth-place finish that made Wan an All-American (top eight) for the first time.
Wan became Stockton's first men's outdoor All-American in a throwing event since Stockton Athletics Hall of Famer Mike Mielke won the NCAA title in the discus in 1986. He earned the 39th men's outdoor All-American honor in school history overall.
The event was the final competition in an outstanding career for Wan, who graduated from Stockton with his master's degree in business administration on May 13. He added the All-American accolade to a list of recognition that includes five-time NJAC Second Team and three-time USTFCCCA All-Region while competing in indoor and outdoor track & field.