Founding Leadership Cohort Graduates
Founding Leadership Cohort Graduates
Ed.D. Organizational Leadership graduates reflect on experience.
by Daniel J. Douglas Ed.D. '19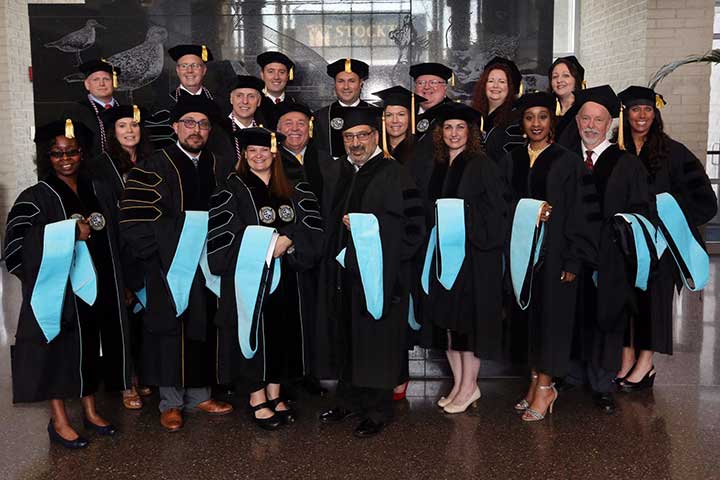 While the University celebrated its 50th year since its founding in 1969 at a Board of Trustees meeting in February, students in the founding cohort of the Ed.D. in Organizational Leadership program could be found holed up at home or in the library, trying to finish their dissertations.
On May 7, the founding cohort became the first graduating class of the Ed.D. in Organizational Leadership program.
Recent graduate Kristina Santoro said the program offered several benefits including "learning more about myself, collaborating with my cohort members across disciplines, and learning from excellent professors and interesting guest lecturers." While Daniel Fidalgo Tomé, director of Service-Learning at Stockton, described the program as "accessible, affordable, convenient."
Based in the Academic Center at the new Stockton University Atlantic City, the Ed.D. in Organizational Leadership program was approved by the Stockton Board of Trustees in 2015 and welcomed the founding cohort in January 2016. School of Education faculty members including George Sharp, instructor of Educational Leadership; and Joseph Marchetti, professor emeritus of Education, developed the innovative doctorate of education program in consultation with faculty colleagues and an advisory group.
The program's interdisciplinary focus embraces Stockton's founding value. Most education doctorates are designed for P-12 teachers and administrators. The Stockton doctorate is designed for individuals from any organization.
Sgt. Nicole Nelson of the Hamilton Township Police Department (pictured right) enrolled in the program because she "liked the fact that it was an interdisciplinary face-to-face program."
The Stockton doctorate is diverse in its student body and the organizations they represent. Represented organizations range from business, education and faith-based organizations to government and military, health care networks and agencies, and non-profit organizations.
"Stockton has a culture of embracing diversity and I believe the program exemplifies that belief," explained Jeannine Holt Ingenito, learning disabilities teacher consultant.
95 students in 4 cohorts with cohorts starting each fall.
Students from 16 of 21 counties and three states.
98.4% of students will recommend the program to others.
That's what attracted Brian McBride, superintendent of schools at Palmyra Public Schools, to what he called a "brand new program seeking a diverse population of leaders who were willing to take a risk to evaluate their existing beliefs, values and mindsets in a way that would transform their understanding of leadership."
Classes are taught by Stockton faculty, practitioners and leaders from various organizations.
Nelson said the faculty were "outstanding" and "became a second family."
"They were always open, honest, and gave so much of their time and effort to help me achieve my goals," she said. "They exemplify the meaning of true leadership, and I know that I have made not only mentors but friends for life."
The program is designed to prepare leaders to lead in changing work environments.
Karl Giulian, assistant professor at Atlantic Cape Community College, chose the program because it "would give me the knowledge and credibility to influence change in my various organizations."
Kathryn Suk, assistant professor of Education at Raritan Valley Community College, recommends this program, "because it is designed with the practitioner in mind; it allows for the workplace to become a laboratory to test hypotheses and principles of leadership."
Robert R. Heinrich, Stockton's chief enrollment management officer, said the time commitment was "very manageable."
"I was able to apply many of the principles in my environment and I grew professionally as a result of participating in the program," Heinrich explained.
John Froonjian, interim executive director of the William J. Hughes Center for Public Policy at Stockton, said he, "learned to work better with diverse teams, expanded my thinking in a creative direction, grew in vertical leadership, and began to think more strategically."