A Conversation with U.S. Supreme Court Justice Neil Gorsuch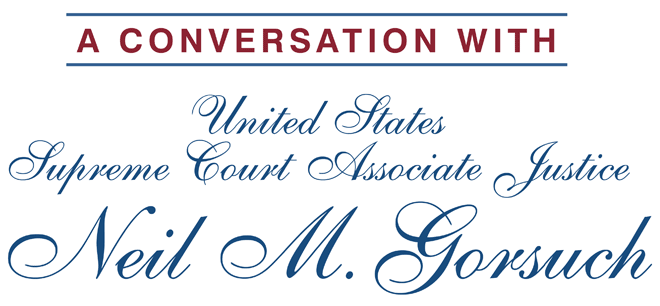 January 23, 2018
2:45 p.m. - 4:15 p.m.
Performing Arts Center
A Special Event for Stockton Students, Faculty, Staff and Invited Guests
Doors for the event will open at 2:15 p.m.
We are committed to providing a safe and secure environment for our students, faculty, staff and guests. All patrons and their belongings are subject to search upon entering our facilities for the event. All individuals will be required to go through a metal detector along with bag checks at each entry point.
The following items are prohibited:
Professional cameras (includes detachable lens)
GoPro cameras
Lasers, air horns, noise makers
Audio/video recording devices
Signs/banners
Food and beverages
Security staff will ask that you return these items to your vehicle or have them discarded.

For the comfort of all guests, profanity, abusive language, intoxication, conduct deemed disorderly, unruly or disruptive is grounds for ejection.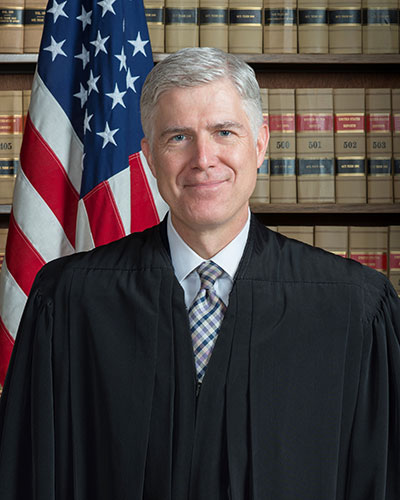 Photo and biography courtesy of The Collection of the Supreme Court of the United States.
---
Biography
Neil M. Gorsuch, Associate Justice, was born in Denver, Colorado, August 29, 1967. He and his wife Louise have two daughters. He received a B.A. from Columbia University, a J.D. from Harvard Law School, and a D.Phil. from Oxford University. He served as a law clerk to Judge David B. Sentelle of the United States Court of Appeals for the District of Columbia Circuit, and as a law clerk to Justice Byron White and Justice Anthony M. Kennedy of the Supreme Court of the United States. From 1995-2005, he was in private practice, and from 2005-2006 he was Principal Deputy Associate Attorney General at the U.S. Department of Justice. He was appointed to the United States Court of Appeals for the Tenth Circuit in 2006. He served on the Standing Committee on Rules for Practice and Procedure of the U.S. Judicial Conference, and as chair of the Advisory Committee on Rules of Appellate Procedure. He taught at the University of Colorado Law School. President Donald J. Trump nominated him as an Associate Justice of the Supreme Court, and he took his seat on April 10, 2017.