Hughes Center Awards Washington Intern Scholarship
Hughes Center awards $1,000 Washington Internship scholarship to Ryan Webster
The William J. Hughes Center for Public Policy has awarded a $1,000 scholarship for participation in the Washington Internship Program to Ryan Webster, a senior political science student at Stockton University.
The Washington Internship program is an intensive para-professional and academic experience in which Stockton students live, work, and study in the Washington, DC region. Students are placed in internships for the semester at federal agencies, professional corporations and media outlets. Dr. Michael Rodriguez, Political Science Program coordinator at Stockton, also coordinates the Washington Internship program.
Webster, a Forked River resident, is interning with the International Development Group, an international public affairs consultancy based in Arlington, VA. The student plans to spend a year in Quebec after graduation to become fluent in French, then will pursue graduate school and a career in international development.
"I decided to study political science because I believe via government, nonprofits and inter-governmental organizations that I'll be able to make strong, meaningful impacts on the lives of others," Webster said.
Stockton University is affiliated with the nation's largest internship organization, The Washington Center, which facilitates the activities. In early October, Dr. John Froonjian, Rodriguez, and development officials from Stockton attended the Washington Center's Annual Scholarship Dinner in the capital. At the dinner, Froonjian, the interim executive director of the Hughes Center, got to meet Webster and talk about his academic interests.
"The Hughes Center is proud to support serious students like Ryan who are living Stockton's ideal of civic engagement," Froonjian said.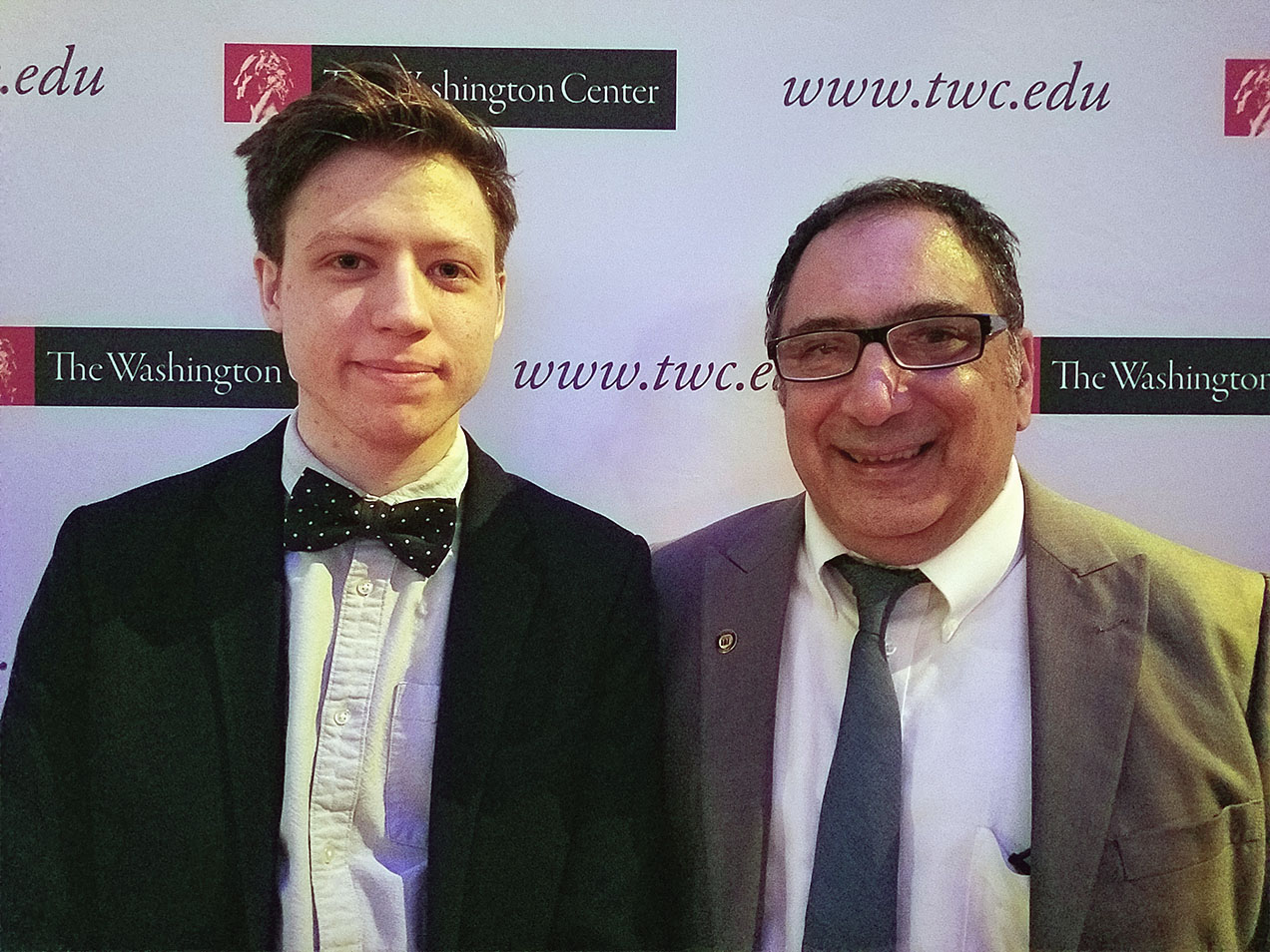 The Hughes Center has provided a $1,000 scholarship for a Stockton participant in the Washington Internship Program each fall and spring since 2013. It is just one of several ways the Center is supporting student academics and development.
Last summer, the Hughes Center worked with Rodriguez and Atlantic County government to establish internships in Atlantic County government offices in Atlantic City. Beginning in 2019, the Hughes Center will take on a student intern to research an important issue and produce a report each semester. This fall, Stockton undergraduate Florence Hulbert, a dual math-political science major, is researching the effects of climate change on New Jersey.
"The Hughes Center recognizes that providing these opportunities to Stockton students is an investment in our future leaders," Froonjian said.