Carol Rittner at the UN
Dr. Carol Rittner, RSM, Speaks at Two United Nations Programs
January 23 and February 5, 2014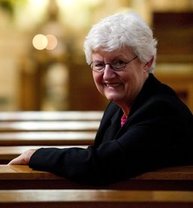 On January 23, 2014, Dr. Carol Rittner RSM, Distinguished Professor of Holocaust & Genocide Studies, spoke at the United Nations program "The 70th Anniversary of the Deportation of the Hungarian Jews during the Holocaust."
Click here to watch the program.
On February 5, 2014, she will speak again about the genocide in Rwanda and the question of whether or not churches were complicit in these horrific and tragic events.