Scholarship Recognition Day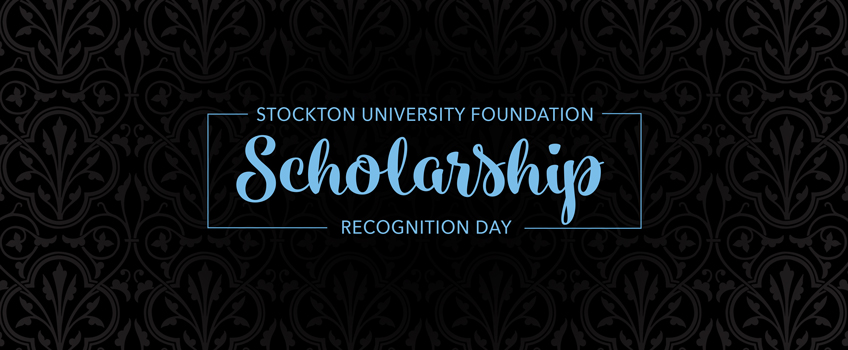 Welcome to Scholarship Recognition Day!
Each fall, the Stockton University Foundation holds its Scholarship Recognition Dinner to honor donors and celebrate student achievement. Although we can't gather in person this year, we've dedicated this special website to you, our generous scholarship donors and talented students!
The Foundation awarded more than $1,000,000 in direct scholarship funding to more than 650 Stockton students for the 2019-2020 academic year. We extend our gratitude and thanks to the donors who continue to create life-changing experiences for our students through their support.
---
Meet Our Scholarship Donors and Recipients
Abraham Soltz Memorial Scholarship
Donor/Point of Contact

Margaret Horowitz
James Soltz
Recipients
Jaryd Davidson
Nicole Joachim
Shelly Luu
Antonina Mancuso
Francesca Navas
Alexandria Rodriguez
Jacques Srour

Adele and Joseph Dancyger Memorial Scholarship
Donor/Point of Contact
Recipients

Vakaz Akram
Ashley Barcelo
Arielle Budd
Kelly Burns
Emily Deibert
Jeannette Dougert
Vincent Esher
Taylor Fairman
John Gavalchin
Olivia Harris
Patrick Heffernan
Mykola Hubchak
Jessica Ireland
Natalie Jacewicz
Lindsay Kelly
Taylor Ketcham
Elisabeth La Belle
Eva Leaverton
Morgan Mako
Christine Marks
Jason Martin
Lydia McBride
Cassidy McComb
Derek Nolan
Marissa Realdine
Zebediah Reale
Rachael Rude
Emily Sapio
Amanda Sciandra
Matthew Titus-Mckinney
Audrey van Schalkwyk
Courtney Weber


Alpha Kappa Alpha Sorority Book Award
Donor/Point of Contact
Courtney Mack
Dianne Stalling
Recipient
American Association of University Women Scholarship AAUW
Donor/Point of Contact
Arlene Groch
Linda Harmon
Diana Intenzo
Recipients
American Legion Post 430 MSW Endowment
Donor/Point of Contact
Recipient
American Legion Post 430 Scholarship
Donor/Point of Contact
Recipients
Gary Guerra
Robert Hyson
Mark Kennedy
Akash Shah


Andrew and Camille Dolce Endowed Scholarship
Donor/Point of Contact
Andrew Dolce
Camille Dolce


Recipients
Angela Sena Memorial Scholarship
Donor/Point of Contact
Brian Sena
Brian Sena
Nicholas Sena
Recipient
Anna (Scudese) Fotia Memorial Scholarship
Donor/Point of Contact
Recipient
Anne and Howard Jacobson Book Award
Donor/Point of Contact
Recipient
Anne L. Reinheimer Memorial Scholarship
Donor/Point of Contact
Recipient

Anntonia Palladino Memorial Scholarship Endowment
Donor/Point of Contact
Lisa Bee
Georgeann Palladino
John Palladino

Recipient
Anthony Winston Rodriguez Scott Memorial Scholarship Fund
Donor/Point of Contact
Recipients

Jaclyn Kobilis
EmiLee Roesch


Antique Collectors Club Scholarship
Donor/Point of Contact
Recipients
Yuliya Semenova
Norman Switzer

Arnold and Gertrude Kramer Endowed Memorial Scholarship
Donor/Point of Contact
Charles Kramer
Lynn Kramer

Recipients

Vakaz Akram
Tiffany Giang
Van Nhi Ho
Harris Mohammad
Chanel Troche


Arthur A. Davis Jr. Memorial Scholarship
Donor/Point of Contact
Recipient

Atlantic City Electric Scholarship
Donor/Point of Contact
Vincent Maione

Atlantic City Electric
Recipients

Gracie Buondonno
Tori Robbins


Atlantic City Fire Department "Sand Pipers" Pipe Band Endowment Scholarship
Donor/Point of Contact
Recipients
Casey Berchtold
Katie Cummings

Atlantic New School Scholarship
Donor/Point of Contact
Recipients

Michael Moore
Alexa Taylor

Barbara Boor-Brown '77 Memorial Scholarship
Donor/Point of Contact
Cheryle Eisele
Linda Janelli

Recipient

Bea and Harry Ross Scholarship
Donor/Point of Contact
Recipient

Bella Kurant Fox Slamovich Award
Donor/Point of Contact
Barbara Roth
Ed Roth
Elizabeth Roth
Henry Roth

Recipients
Mykola Hubchak
Zebediah Reale

Bernard I. Friedenberg Award-Jewish War Veterans
Donor/Point of Contact
Recipients
Cassidy Hoff
Cassidy McComb
Geldy Nunez
Courtney Weber

Bess Kathrins School of Health Sciences Scholarship Award
Donor/Point of Contact
Recipient

Bonnie Milne Memorial Scholarship
Donor/Point of Contact
Recipient
Cackleberry Scholarship
Donor/Point of Contact
Ray D'Amours
Tatiana D'Amours

Recipient
Caesars Entertainment Endowed Scholarship
Donor/Point of Contact
Recipients
Kendrick Andujar
Angela Bianchini
Christian Cabrera
Ornirys Canela
Courtney Charlton
Shannon Colligan
Tristan Duncan
Kirsten Flournoy
Nimrah Jahan
Victoria Lynn
Olivia Maxwell
Francesca Navas
Nicole Ong
Daniela Puerta
Divya Rajput
Ozzie Rodriguez
Sierra Sage
Christina Salvo
Emily Salvo
Eddie Tran
Peter Tran
Victoria Volpe

Carole Ashe Memorial Scholarship
Donor/Point of Contact
Recipient
Chad Adams '95 Memorial Scholarship
Donor/Point of Contact
Beverlee Adams
Rebecca Adams
Sara Faurot
Dawn Hans
Jessica Kowal
John O'Keefe
Tara Williams

Recipients
Demi DeAngelis
Jack Maniscalco

Chemistry Society Book Award
Donors
Marc Richard
Louise Sowers
Recipient
Claire M. Levine Scholarship
Donor/Point of Contact
Recipients
Michaela Lippert
Dalia Moamed
Colonel Kenneth Stow U.S. Military Veterans Memorial
Donor/Point of Contact
Recipient
Council of Black Faculty and Staff Scholarship
Donor/Point of Contact
Recipients
Hope Andrescavage
Deja Aviles
Amina Bakhat
Erica Bruno
Kaitlyn Caraway
Adonia DaCosta
George DeMirjian
Jeanelle Escobar
Tania Gafanha
Ki'tra Hunter
Melanie Iatarola
Jada Mills
Aracely Morales
Sabrina Quinones
Erika Schoeneberg
Christihonor Spencer

David P. Kung Scholarship for Asian Studies
Donor/Point of Contact
Recipient
Dean Dennis and Susan Weiss Scholarship in Marine Science
Donor/Point of Contact
Recipients
Danielle Dyson
Emily Zembricki

DeAnna Stark Pasciuto '01 Memorial Scholarship
Donor/Point of Contact
Recipient
Debbie Wilkinson School of Health Science Transfer Students' Scholarship
Donor/Point of Contact
Recipient
Dennis Gomes Memorial Hospitality Scholarship
Donor/Point of Contact
Recipients
Riley-Jo McKenna
Shahil Patel
Alaina Rush

Diane M. Leitner Memorial Book Award
Donor/Point of Contact
Recipient
Diane M. Leitner Memorial Fund
Donor/Point of Contact
Recipient
Dolores Mazza Art Award
Donor/Point of Contact
Recipient
Dominick A. Messina Memorial Endowed Award
Donor/Point of Contact
Recipient
Dorothy and Raymond Hurter Scholarship
Donor/Point of Contact
Recipients
Shannon Colligan
Destiny Everett
Giavanna Mancuso
Catherine Parmenter
Anodja Peck
Taylor Simon
Jenna Tompkins
Adryanna Valentin

Dorothy Klein Scholarship for Social Work
Donor/Point of Contact
Recipient
Dr. Amy S. Ackerman Scholarship
Donor/Point of Contact
Recipient
Dr. Carol Slocum Book Award
Donor/Point of Contact
Recipient
Dr. Cyla Trocki-Videll Memorial Scholarship
Donor/Point of Contact
Ronald Ozlek
Mona Trocki-Ozlek
Recipients
Kelly Burns
Jessica Ireland

Dr. Janice Joseph Tuition Award
Donor/Point of Contact
Recipient
Dr. Jo Frances Stow Public Health Scholarship
Donor/Point of Contact
Recipient
Dr. Juanita High Distinguished Student Book Award
Donor/Point of Contact
Recipient
Dr. Lisa E. Cox Social Work Merit Scholar Award
Donor/Point of Contact
Recipient
Dr. M. Alysia Mastrangelo Physical Therapy Endowed Scholarship
Donor/Point of Contact
Recipient
Dr. Richard Maung, MPT '01/DPT '08 Scholarship
Donor/Point of Contact
Karen Maung
Richard Maung

Recipient
Edward and Melanja Bukowski Memorial D.P.T. Scholarship
Donor/Point of Contact
Recipient
Elizabeth Alton Endowed Memorial Scholarship
Donor/Point of Contact
Karen Alton
L. Gayle Gross

Recipient
Elizabeth Lynch Healthcare Award
Donor/Point of Contact
Recipient
Engelberg Leadership Scholarship
Donor/Point of Contact
Recipients
Elena Gonzalez
Bao Pham
Steven Rubio
Loukaia Taylor

Environmental Association of Ocean City Environmental Studies
Donor/Point of Contact
Recipient
Ernest and Sara Paul Scholarship Endowment
Donor/Point of Contact
Dahlia Herman
Gil Paul
Stuart Paul

Recipients
Taylor Ketcham
Jason Martin

First Ospreys Scholarship
Donor/Point of Contact
Recipients
Jennifer Macario
Rifat Mahmud
Jada Phillips
Redwan Ahmed Salman

Flerida Santana Unidos Scholarship
Donor/Point of Contact
Recipient
Frances N. Christian Memorial Scholarship
Donor/Point of Contact
Recipient
Frances R. Large Scholarship
Donor/Point of Contact
Recipient
Friends of Encore Learning Endowed Scholarship & Friends of Encore Learning Scholarship
Donor/Point of Contact
Meryl Baer
Marilyn Casel
Esther Steele

Recipients
Kayla Baker
Carly Ruggeri
Kallie DeRose
Gianna Iacobino
Marissa Realdine
Caroline Sparacino
Ashley Yeager

G. Larry James Legacy Scholarship Fund
Donor/Point of Contact
Eileen Conran-Folks
Lonnie Folks

Recipients
Amy Amezquita
Jessica Elliott
Gabriella Fiorica
Antonia Graziano
Joshua Hunte
Taylor James
Justine Jasuale
Kerry Locke
Danielle Madiraca
Nyala Marsh
Cecilia Mitchell
Marrianne Obispo
Laura Quinones
Mariah Simpson
Daniel Theyn
Allison Truax
Hannah Urbanowycz

George Greenman Memorial Endowed Scholarship
Donor/Point of Contact
Alan Greenman
Miriam Greenman

Recipients
Arielle Budd
Taylor Fairman
Rachael Rude

Gerald Clemens Endowed Scholarship
Donor/Point of Contact
Norma Caputo
Stacey George

Recipients
Hope Andrescavage
Dominic Bates
Gracie Buondonno
Nicole Cunningham
Matthew Furry
Jessica Lago
Colleen Lindenau
Anastasia Morozova
Silkey Patel
Michelle Phan
Samantha Rachel
Peter Tran
Tran Truong
Emma Velez
Zachary Wilson

Gholam Hussien Ghorashi Book Award
Donor/Point of Contact
Recipient
Gibb Foundation Scholarship
Donor/Point of Contact
Recipients
Julia Dehnert
Nicholas Long

Graduate Student Council Book Award
Donor/Point of Contact
Stockton Faculty, Staff, Alumni and Friends
Recipients
Alexa Chiaro
Demi DeAngelis
Aloni Lee
Jamie Lynch
Daniela Puerta


Greater Atlantic City Charities Distinguished Student Scholarship
Donor/Point of Contact
Recipients
Melissa Salinas
Justin Stafford
Gina Stavalo
Audrey van Schalkwyk
Michael Yates

Greg Angelucci '87 Veteran Scholarship Award
Donor/Point of Contact
Recipient
Gregory A. Voit, MD Memorial Scholarship
Donor/Point of Contact
Donna Brennan
John McCloskey
Recipient
Gross Family Environmental Scholarship Fund
Donor/Point of Contact
Recipient
Hammonton Area Endowed Scholarship
Donor/Point of Contact
Johanna Johnson
Charles Kramer
Edward Wrobleski

Recipients
Isabella Buccilli
Jaeda Cooper

Helen W. and Joseph L. Walsh Helping Achieve the Dream Fund
Donor/Point of Contact
Recipient
Henry Y. Lee '14 Memorial Scholarship
Donor/Point of Contact
Recipient
Hilda Perez Scholarship Endowment
Donor/Point of Contact
Recipient
Historical Studies Scholarship
Donor/Point of Contact
Recipient
Howard Bacharach Memorial Scholarship
Donor/Point of Contact
Ronnie Bacharach
Edward Sutor
Recipients
Emily Deibert
Elaina Gill

Ida E. King Memorial Scholarship
Donor/Point of Contact
Recipient
Ingie Lafleur Award
Donor/Point of Contact
Recipient
Jacob Family and Friends Nursing/Master in Social Work Endowed Scholarship
Donor/Point of Contact
Recipient
Jamie Crescenzo Memorial Scholarship
Donor/Point of Contact
James Crescenzo
Margaret Crescenzo
Recipient
Jaybala P. Khatiwala Endowed Memorial Scholarship
Donor/Point of Contact
Recipients
Antonina Mancuso
Maryam Nasr
Michelle Phan

Jenelle T. Archut Scholarship
Donor/Point of Contact
Recipient
Joan Fineran Nursing Scholarship
Donor/Point of Contact
Recipient
Joan M. Pesce Scholarship Fund
Donor/Point of Contact
Recipient
Joanne Malloy Memorial Nursing Scholarship
Donor/Point of Contact
Recipient
Joel and Kara Steele Scholarship
Donor/Point of Contact
Recipient
John Bockelmann Memorial Scholarship Endowment
Donor/Point of Contact
Joseph Hussong
Marion Hussong
Recipient
John P. Richert Memorial Scholarship
Donor/Point of Contact
Recipient
Jonathan B. DeMario Memorial Scholarship Endowment
Donor/Point of Contact
Recipient
Joseph and Mildred Hussong Scholarship
Donor/Point of Contact
Joseph Hussong
Marion Hussong
Recipient
Joseph Berkman and Michael and Sara Chipkin Holocaust/Genocide Studies
Donor/Point of Contact
Recipients
Marisa Campbell
Jean Paul Iranzi
Natalia Love
Irvin Moreno-Rodriguez
Casey Parnis
Alexandra Piekarz

Josephine Lopatto Nursing Award
Donor/Point of Contact
Recipient
Joshua Jess Cabot Dance Scholarship
Donor/Point of Contact
Recipients
Charlene Baker
Cecilia Mitchell

Judge Gerald Weinstein Scholarship
Donor/Point of Contact
Recipient
Julia Ben & Wesley Harris Book Scholarship
Donor/Point of Contact
Recipient
Koopman-van de Kar Award for Graduate Students
Donor/Point of Contact
Recipients
Marisa Campbell
Emilie Cubino
Josh Cutler
Amy Fagin
Fabulous Flores
Jean Paul Iranzi
Allison Kisielis
Irvin Moreno-Rodriguez
Koopman-van de Kar Award for Undergraduate Students
Donor/Point of Contact
Recipients
Vakaz Akram




Ashley Barcelo




Kelly Burns




Jeannette Dougert




Vincent Esher




Taylor Fairman




John Gavalchin




Jessica Ireland




Morgan Mako




Ashley Pintor




Marissa Realdine




Amanda Romeiser




Rachael Rude




Matthew Titus-Mckinney
Krig and Rebe Art Scholarship
Donor/Point of Contact
Recipient
Christina Salvo
Emily Salvo
Larsen Family Scholarship
Donor/Point of Contact
Recipient
Leona Carr Memorial Endowed Scholarship
Donor/Point of Contact
Recipient
Lillian & Sam Levy Memorial Scholarship Endowment
Donor/Point of Contact
Recipient
Lillian E. Waters Memorial Scholarship
Donor/Point of Contact
Recipient
LoBue Family Award
Donor/Point of Contact
Recipient
Louis May Memorial Holocaust Studies Scholarship
Donor/Point of Contact
Recipients
Mykola Hubchak
Zebediah Reale
Lynne Kesselman`82 and Harvey Kesselman `79 Endowed Scholarship Fund
Donor/Point of Contact
Harvey Kesselman
Lynne Kesselman
Recipient
Lynne Kesselman`82 and Harvey Kesselman `79 Scholarship
Donor/Point of Contact
Harvey Kesselman
Lynne Kesselman
Recipient
Magda Shenberg Leuchter Intern Scholarship
Donor/Point of Contact
Recipients
Scott McClary
Kathleen McLaney
Marvin D. Perskie Memorial Scholarship
Donor/Point of Contact
Recipient
Mary and Jay Kennedy EOF Award Scholarship
Donor/Point of Contact
Recipient
Mary Ellen Brophy '86 Memorial Scholarship
Donor/Point of Contact
Charles Brophy
Erin O'Hanlon-Keys
Recipient
Master of Science Communication Disorder Book Award MSCD
Donor/Point of Contact
Recipient
Master of Social Work (MSW) Scholarship
Donor/Point of Contact
Recipient
Max Mincer Holocaust/Genocide Studies Scholarship
Donor/Point of Contact
Recipients
Arielle Budd
John Gavalchin
Patrick Heffernan
Marissa Realdine
McCann Science Award
Donor/Point of Contact
Recipients
Samantha Rachel
Alexa Sirchio
Melvin J. Levine Memorial Scholarship
Donor/Point of Contact
Claire Levine
Thomas Levine
Recipients
Madison Pavao
Mya Pinkevicz
Mimi Schwartz Writing Award
Donor/Point of Contact
Recipients
Gabrielle Bibus
Raymond Dudo
Sarah Holt
Necalyna Lopez
Marissa Luca
Steve Morrone
Laura Parker
Ayana Plummer
Shilo Previti
Amelia Renehan
Megan Rundall
Jamie Walters
Paige Weisman
MSW Endowed Scholarship Award
Donor/Point of Contact
Recipient
Nancy Ashton Memorial Scholarship
Donor/Point of Contact
Recipient
Norman and Pearl Kaye Bequest
Donor/Point of Contact
Recipient
O'Brien College Education Dream Come True Endowment
Donor/Point of Contact
Diane Jaffee
David O'Brien
Recipients
Asma Ahmad
Adriana Alfaro
Sharmila Das
Antonina Mancuso
Savannah Phelps
OceanFirst Scholarship Program
Donor/Point of Contact
Recipients
Fatima Aniqa
Colin Bridges
Joshua Camper
Udoy Chowdhury
Sarah Cipkins
Patrick Coughlin
Brittany DeFeo
Mikenzey Fazio
Shaye Fletcher
Juliana Gonzalez
Jacqueline Gruber-Kolmer
Keyvon Harris
Ngan Huynh
Rachel Jennings
Lexis Kelley
Katie Mendoza
Anh Pham
Adela Sanchez
Desray Schneider
Brooke West
Parent and Family Association Scholarship Award
Donor/Point of Contact
Recipients
Asma Ahmad
Ryan Gibson
Hollyann Yannacone
Pathways to Public Service Scholarship
Donor/Point of Contact
Recipient
Paul E. Raether Family Honor Scholarship
Donor/Point of Contact
Recipients
Mariam Eskandar
Maha Malik
Lucy Martinez
Paul Lyons Memorial Scholarship Fund
Donor/Point of Contact
Recipient
Pauline Brown Scholarship
Donor/Point of Contact
Stacey Smith
Tracey Smith
Recipient
Pearl Hookerman and Joseph Gerald Thompson Memorial Scholarship
Donor/Point of Contact
Recipients
Willow Bethke
Alexandra Varga
Physical Therapy Faculty Scholarship Endowment
Donor/Point of Contact
Recipient
Previti Family Scholarship
Donor/Point of Contact
Francis Previti
Maureen Previti
Recipients
Rahul Aggarwal
Mina Ahn
Julian Allen
Raquel Armendariz
Kayla Baker
Brittany Barnett
Gabrielle Bibus
Alexia Breeden
Glenn Brown
Arianna Buckley
Kelly Burns
Jasmine Chong
Nuzhat Chowdhury
Jenna Cooper
Sharmila Das
Tapan Desai
Andrew Dicken
Cielo Figueroa Bravo
Melia Grossi
Paul Harris
Van Nhi Ho
Samantha Holder
Angel Huynh
Tanima Kamrul
Alan Klingenmaier
Antonina Mancuso
Lucy Martinez
Brooke Mischlich
Liliana Morales
Anastasia Morozova
Joseph Napolitano
Maryam Nasr
Michelle Phan
Savannah Phelps
Omayris Ramos
Melissa Salinas
Akash Shah
Belgusa Sherifi
Adnan Shuhan
Annastasia Sigafoos
Xin Rou Tan
Lucas Thomas
Perky Tse
Brooke Wasco
Public Relations Council of Greater Atlantic City Scholarship
Donor/Point of Contact
Kathleen Corbalis
Bill Cradle
Recipient
Rose and Jack Zawid Memorial Endowed
Donor/Point of Contact
Libby Goodman
Joseph Zawid
Recipients
Ashley Barcelo
Lydia McBride
Ashley Pintor
Amanda Romeiser
Emily Sapio
Audrey van Schalkwyk
Rose Taylor Boyce Memorial Scholarship
Donor/Point of Contact
Recipient
Sarah West Leeds Scholarship
Donor/Point of Contact
Recipients
Nicholas Dunham
Alexandra Giraldo
Monica Headley
Brooke Nolan
Donor/Point of Contact
Recipient
School of Arts and Humanities General Scholarship
Donor/Point of Contact
Recipient
School of Business General Scholarship
Donor/Point of Contact
Recipients
Jessica Centola
Brittany Dintinger
Isabelle Gelay
Alexis Kozlak
Emma Lima
David Pileggi
School of Education General Scholarship
Donor/Point of Contact
Recipients
Princess Hoagland
April Perrone
Anthony Thawley
Brittany Young
School of Graduate and Continuing Studies General Scholarship
Donor/Point of Contact
Recipients
Renee Alford
Steven Ashmont
Kathleen Connelly
Robin Hess
School of Health Sciences General Scholarship
Donor/Point of Contact
Recipient
School of Natural Sciences and Mathematics General Scholarship (NAMS)
Donor/Point of Contact
Recipient
School of Social and Behavioral Sciences General Scholarship
Donor/Point of Contact
Recipient
Senator James Whelan Memorial Scholarship
Donor/Point of Contact
Jane Asselta
Kathleen Whelan
Recipient
Shanon Newberry Physical Therapy Scholarship
Donor/Point of Contact
Recipient
Shawn L. Bronson Criminal Justice Book Award
Donor/Point of Contact
Recipient
Sinclair Latinx Scholarship Fund
Donor/Point of Contact
Recipient
Southshore Foundation Health Education Scholarship
Donor/Point of Contact
Recipients
Aleyshka Barbosa
Shannon Dickson
Eric Helfant
Hannah Kwartin
Addison Meeker
Nicole Pantalone
Lauren Preston
Jeanette Quinn
Kaitlyn Reda
Sierra Sage
Kamary Serrano
Julia Trafton
Brooke Wasco
Natalia Weitzel
Stockton Federation of Teachers Endowed Scholarship
Donor/Point of Contact
Susan Burrows
Pamela Cohn
Rodger Jackson
Adam Miyashiro
Recipients
Glenn Brown
Amy Ouyang
Heather Passarelli
Stockton Graduate Studies Book Award
Donor/Point of Contact
Recipient
Stockton University Alumni Association Legacy Scholarship
Donor/Point of Contact
Sara Faurot
Daniel Nugent
Recipient
Stockton University Foundation Scholarship
Donor/Point of Contact
Recipients
Liam Abrams
Anthony Agrifolio
Marquetta Alexander
Renee Alford
Emily Alter
Mikaela Altomare
Angelina Amato
Joseph Andress
Uchechukwu Ayeke
Courtney Bainbridge
Christopher Bajada
Charlene Baker
Aleyshka Barbosa
Carly Barnes
Alice Barnes-Vasser
Kyla Maree Bermudez
Ana Beste
Willow Bethke
Angela Bianchini
Gabrielle Bibus
Lillian Bloshtein
Michael Boateng
Colleen Brady
Alexia Breeden
Glenn Brown
Marissa Bunting
Ashley Burns
Shelby Burns
Clementine Byrne
Emily Byrnes
Maria Caccavo
Veronica Campbell
Kayla Castelli
Samantha Castilloveitia
Madalynn Charneskey
Jaiden Chavis
Alexa Chiaro
Nuzhat Chowdhury
Kendra Cirino
Amanda Clark
Calyn Conway
Natalie Cooper
Kylie Cribben
Jada Daniels
Demi DeAngelis
Kaitlyn DeFillipo
Sabrina Delgado
George DeMirjian
Tapan Desai
Molly DeVaney
Charlize Deveza
Michael DiCicco
Victoria Dicicco
Brian Dolores
Michael Donne
Julia Drazin
Tristan Duncan
Hannah Durning
Danielle Dyson
Stephen Easterday
Sarah Edouard
Seth Edwards
Haley Elias
Amanda El-khouri
Taylor Endres
Vincent Esher
Destiny Everett
Taylor Fairman
Lauren Farrell
Rosheka Faulkner
Kelly Fleck
Zoe Flowers
Susann Foley
Robert Ford
Julianna Fortis
Caitlyn Frizziola
Matthew Furry
Ahmed Gawash
Tiffany Giang
Mary Gibson
Savannah Giese
Megan Glenn
Gary Guerra
Michael Gutto
Kalynn Hanily
Paul Harris
Desiree Hayes
Holly Heffley
Eric Helfant
Jennifer Heller
Matthew Honchalk
Judith Hynes
Tehmina Islam
Jayda Issa
Matthew Keidat
Lindsay Kelly
Mark Kennedy
Jessie Kessler
Alan Klingenmaier
Benito Komadina
Emily Kramer
Nicole Kramer
Elisabeth La Belle
Nicole Lampariello
Erin Layton
Salena LeDonne
Aloni Lee
Kyle Lewis
Jamie Lynch
Corey Mack
Amanda Maurer
Amanda Mayer
Kevin McCann
Monica McCarthy
Robin McClain
Cassidy McComb
Taylor McDonald
Patrick McGinty
Kathleen McLaney
Brianna Mincolelli
Bethany Modrow
Emily Molitor
Michelle Monteserin
Luke Morgan
Robert Nardello
Derek Nolan
Brianna Pagnani
Alexandria Parks
Heather Passarelli
Silkey Patel
Klaudia Patryn
Madison Pavao
John Pelikan
Vishnu Pendyala
Jessica Peoples
Alexa Petillo
Samantha Petosa
Madison Philhower
Daniella Pineno
Mya Pinkevicz
Hailee Porricelli
Alexis Post
Daniela Puerta
Christina Pyott
Christina Quagliato
Julia Quick
Serene Quick
Callan Rafferty
Divya Rajput
Mariana Ramos
Allison Reid
Kiersten Reszkowski
Ruby Rodrigues
Vanessa Rodriquez
Rachael Rude
Carly Ruggeri
Daniel Rupert
Amanda Sciandra
Natalie Scott
Autumn Shackleton
Taylor Simon
Nichole Smith
Maria Solano-Linares
Twinkle Sondhi
Ashley Strachan
Erica Szymczak
Kaylie Takacs
Julia Tominberg
Jenna Tompkins
Eddie Tran
Peter Tran
Tran Truong
Perky Tse
Paul Tucci
Samantha Van Horn
Breanne Vance
Emily Viecelli
Alexis Villalta
Ashley Weaver
Nicole White
Nicholas Wilkinson
Chelsea Williams
Philip Young
Taylor Endres
Kelly Fleck
Silkey Patel
Samantha Petosa
Chelsea Wheeler
Stockton Women's Leadership Council Fund
Donor/Point of Contact
Recipients
Victoria Caiazzo
Geldy Nunez
Alisha Romer
Diana Sandoval
Tara Jean Barker '06, DPT '08 Memorial Scholarship
Donor/Point of Contact
Beverly Barker
Gregory Barker
Recipient
Theresa A. Sierra Scholarship Service Award
Donor/Point of Contact
Recipient
Thomas J. Blakely Memorial Political Science Scholarship
Donor/Point of Contact
Recipient
Unified Black Student Society (UBSS) and Black Alumni Scholarship
Donor/Point of Contact
Recipient
Up to Us 2015 Scholarship Award
Donor/Point of Contact
Angelo Bechara
Louis Chevere
Victoria Muraoka
Bradley Ross
Maryam Sarhan
Recipient
Vera King Farris Scholarship
Donor/Point of Contact
Recipients
Emily Camillo
Stacey Hudak
Sarah Kusnirak
Michaela Lippert
Matthew Wiederspahn
Visiting Nurse Association of Atlantic City Scholarship
Donor/Point of Contact
Recipient
William Gilmore-Lehne Memorial Scholarship
Donor/Point of Contact
Recipient
William H. and Elizabeth J. McMahon Scholarship
Donor/Point of Contact
Recipient
Ye Olde Tymers Club of Atlantic City
Donor/Point of Contact
James Goldsmith
Jerome Greenberg
Anthony Musarra
Recipients
Van Nhi Ho
Danish Khan
Giavanna Mancuso
Amy Ouyang
Ayana Plummer
Yoh Foundation Scholarship
Donor/Point of Contact
Recipients
Benjamin Bibeault
Ryan Copsey
Emily Gabriel
Mackenzie Mahana
Gabriella Marzella
Sophia Rullo
Marissa Shiarappa
---
A Conversation with President Harvey Kesselman and Scholarship Recipients
A Special Message from Donna Buzby, Chair of the Stockton University Foundation Board of Directors
---
Stockton Students Share Their Scholarship Experience
---
Meet the Scholarship Selection Committee
---