Ospreys Give Returns October 6!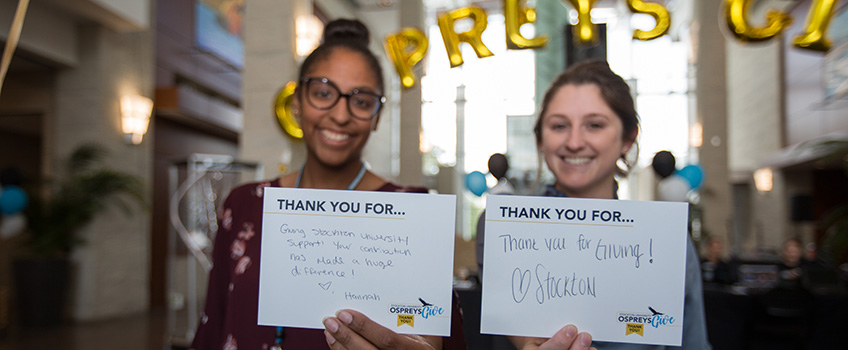 The Stockton University Foundation's annual day of giving, Ospreys Give, returns October 6 – 7, 2021. The fourth annual 24-hour event encourages all members of the Stockton community and beyond to support the campus causes they care about. Supporters will have the opportunity to choose from a number of highlighted initiatives or give to other areas of interest. A variety of events, challenges and matching donations will take place throughout the event to incentivize donors and garner additional support for scholarships, student clubs and organizations, faculty research, emergency funds and more.
"We are incredibly excited to bring Ospreys Give back for the fourth year in a row," said Dan Nugent, chief development officer and executive director of the Stockton University Foundation. "This incredible community event has raised more than $545,000 since its inception and with the help of the Osprey community, we know we can add a significant amount to that total this year!"
In addition to the event's annual goals around alumni participation, another key focus for this year's day of giving is student involvement. Student organization leaders, members of Student Senate and other involved students are needed to serve as ambassadors for the day.
"Our focus has always been on our students and we're hoping to set a record for student participation this year," says Sue Werner, associate director of development, who coordinates the event. One of the best parts about this event is students have the opportunity to get involved and raise money for the things they truly care about at Stockton to better their experience – like their areas of study, an organization, an Athletic team and more."
A full schedule and newly redesigned website will be available closer to the event date. For more information on ways to get involved, contact Sue Werner at susan.werner@stockton.edu or (609) 652-4830.