New Business Dean Inspires Alumni Involvement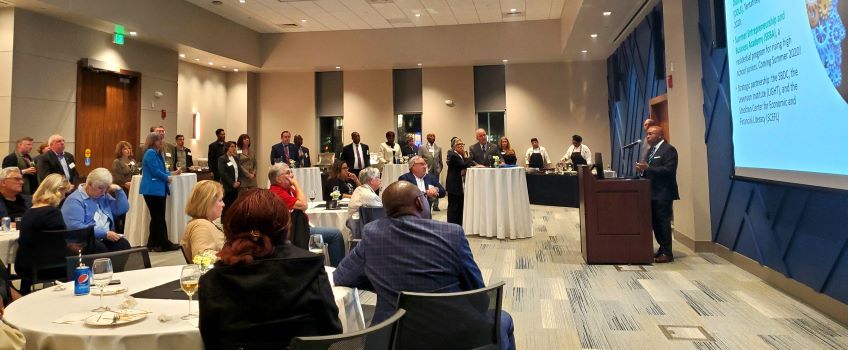 Dr. Alphonso Ogbuehi, who joined Stockton as Dean of the School of Business in July, welcomed alumni and friends to the Atlantic City Academic Center on Nov. 7 for an evening of networking, connection and learning. The event served as an opportunity for Ogbuehi to share his vision for the School and underscore the vital role alumni can play in helping the School achieve success.
"As thought leaders and executives who are driving change in our community, you are in a unique position to inspire our students by sharing your ideas and what you've learned," Ogbuehi said as he outlined his goal to launch a leadership series to bring in high-profile individuals to speak to students and the public.
Inspiring students is central to Ogbuehi's vision. Through programs like the leadership series, Ogbuehi hopes to motivate students to see themselves as leaders in the community and understand the endless opportunities available to them at Stockton and through the School of Business.
Guests were energized by his ideas surrounding community engagement, particularly his plan to establish the Summer Entrepreneurship and Business Academy (SEBA). SEBA will allow rising high school juniors to live on the Atlantic City campus for a week and take courses aimed at inspiring entrepreneurship.
"This program will really show high school students what it's like to be in college," said Ogbuehi. "Many of these students may not be able to go to college or didn't envision going as their parents didn't attend college; so as potential first-generation students, we want to let them know they not only can be college students but they can be successful as they pursue their degree."
Ogbuehi also emphasized the need for the school to embrace diversity and inclusivity and enable a sense of global mindedness as he outlined his desire to explore international partnerships for faculty and student exchanges.
"I'd like to find a way to inculcate in the minds of students a sense of diversity and community, but more importantly, a global mindedness," said Ogbuehi.
To learn more about opportunities for School of Business alumni to volunteer and get involved, contact Sara Faurot, director of alumni relations at 609-652-4974 or sara.faurot@stockton.edu.