Arman Roy Foundation Hope Scholarship
Arman Roy had an extraordinary gift for technology. From computers, drones, and virtual reality to solar panels, robotics programming, bitcoin and more, Arman effortlessly mastered all things technology from a young age.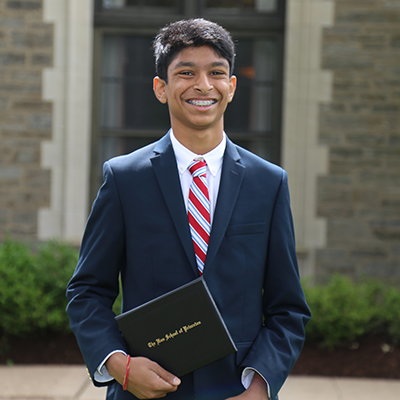 "He was an extremely gifted child and was especially connected with technology; this was a kid who was mining cryptocurrency at age 11," said Pryia Roy, Arman's father. "Yet he was also humble and kind, and always thinking of how he could help someone else. He just upgraded everyone's lives."
With Arman's gift came a deep appreciation and understanding of how fortunate he was to have access to technology. This awareness began around age 12 when he read an article about Detroit and the fact that 70 percent of the city's school-aged children didn't have access to the internet. The article described how local organizations were working to solve this dilemma. It was in that moment that Arman found his calling.
"Arman recognized the digital divide at such a young age, and how if you could connect the divide and deliver access, it could change students' lives," said Pryia. "And it was after his conversation with me about the article that he said 'Dad, I want to do that'."
The conversation became the impetus of the Arman Roy Foundation, established shortly after Arman passed away in 2019 to honor his life and continue his legacy of helping others.
"The Foundation's mission is really to bridge the digital divide, which is still very much a problem in this country and globally," said Manisha Roy, Arman's mother. "It was founded to reach youth in New Jersey, New York and Pennsylvania who we could really connect with and knew would be struggling with not having access to technology."
Through partnerships with organizations like Visions and Pathways and Volunteers of America, the Foundation has been hands on with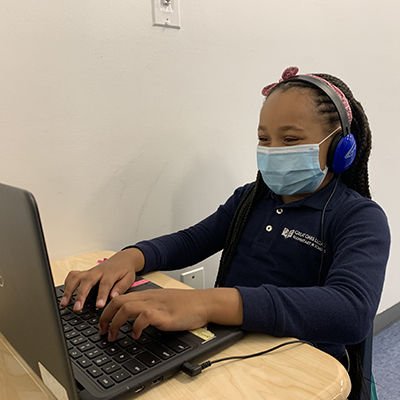 dozens of projects, providing more than 270 electronic devices to school-aged children in need. Additionally, four technology hubs in homeless shelters have been funded, allowing children who once lacked Wi-Fi and other resources to partake in remote learning. The Foundation has had an impact on the lives of 2,500 youth since its inception.
Arman's legacy will now impact the lives of Stockton University students through the Arman Roy Foundation Hope Scholarship, established with a commitment to support two students who demonstrate financial need and major in a technology-related program with an annual award of $2,500 each.
"We are deeply moved by Arman's story and the Foundation's mission to provide greater access to technology," said Dan Nugent, chief development officer and executive director of the Stockton University Foundation. "In today's digital world, this mission is vital to the success of our students, particularly those with limited access to technology; Stockton is honored to be able to provide this scholarship through the Arman Roy Foundation."
Pryia's brother, Dr. Mukesh Roy, member of the Stockton University Foundation Board, introduced Pryia and Manisha to Stockton. After learning about the University's growth and its diversity and inclusion efforts, the Roys wanted to get involved.
"What really drew our attention to Stockton was the real focus on diversity, equity and inclusion and how even through the Computer Sciences and Technology program, Stockton is looking for students that can help bridge the digital divide," said Pryia. "And if we can continue to provide access to kids from underserved populations, build on that with the Foundation's education programs and further continue these efforts with a scholarship that helps students attend college, that truly makes all the difference."
When asked what their hope is for recipients of their scholarship, Manisha stressed the value of paying it forward.
"This scholarship was established to celebrate Arman's life and his legacy by giving others a chance to pursue their dreams," said Manisha. "Our hope for students who receive this scholarship is that this gift changes their lives, and in turn, they are going to pay it forward to create this ripple of hope that is going to bless others for generations to come; it takes one little spark to change a generation."
According to the Roys, Arman is "omnipresent" through the Arman Roy Foundation.
"Arman's physical departure wasn't what defined him," said Pryia. "After his passing, so much love came through and we were so inspired by other people and how they felt about him, and this Foundation really is a byproduct of this and really how we carry forward his specialness and kindness to others."
Arman would have been 17 on March 24. In honor of his birthday, the Arman Roy Foundation is holding a "Birthday Dollars for Hope Scholars" campaign to celebrate Arman's life and legacy with the gift of education for those in need. To learn more about this campaign or to support this effort, visit armanroy.org/dollarsforscholars.
For more information about the Arman Roy Foundation, visit https://www.armanroy.org/, and for updates, visit their Facebook, Instagram and Twitter accounts.