Alumni Relations Builds Connections Amid COVID-19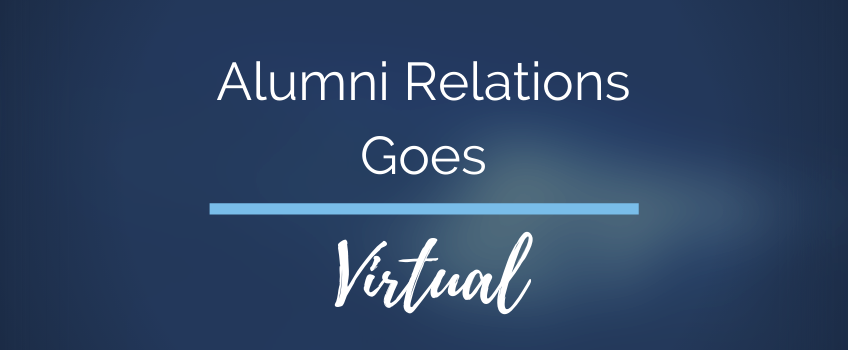 In March 2020, just weeks into the COVID-19 pandemic, Stockton's Alumni Relations team made the difficult decision to cancel all upcoming events. From 76ers games to Second Saturdays in Atlantic City, the team worked tirelessly to notify more than 400 people registered to attend upcoming events that they had been canceled.
"It all happened very fast," said Sara Faurot, director of Alumni Relations. "We weren't sure what we were facing yet, so we went from assuming our events were on hold temporarily to a full-on slew of cancellations."
Like thousands of other Alumni Relations organizations across the country, the team was left wondering what its programming would be like in the face of a pandemic. Would all events be on hold until the summer, fall or even next spring? Would alumni feel disconnected from Stockton as a result?
"When the pandemic hit, I think we all felt a bit disconnected and overwhelmed with the thought of 'what's next?'," said Faurot. "On a personal level, it was important for me to find connection while I was stuck at home; I knew we needed to offer opportunities for alumni who likely felt the same way we were feeling. To keep them connected from home."
The Alumni Relations team got to work brainstorming creative ways to bring connection and support to Stockton's network of more than 55,000 alumni around the globe. The team successfully pivoted their extensive programming calendar to completely virtual events that offered opportunities for alumni, their families and friends of the University to participate.
The new virtual event series kicked off with two interactive magic lessons hosted by Chad Juros '11, followed by a new series titled, Motivation Monday featuring yoga and meditation classes for all ages hosted by Mary McMonagle '16.
"We were excited to launch our virtual event series with activities that were family-friendly," said Faurot. "At a time when kids are at home, we wanted to offer events that could engage the whole family."
From there, the team expanded its programming, offering comedy nights, gardening workshops, and a new event series titled, Faculty & Friends Film Series, which allows alumni to connect with former professors and other faculty members. Each film series event features a faculty member who leads a live, interactive discussion on a movie or documentary of their choice.
To date, more than 1,000 alumni and friends have attended 64 virtual events, many of whom have made connecting with Stockton virtually part of their normal routines.
"The meditation and yoga classes have become, and continue to be, something I look forward to during this work-from-home period," said a frequent attendee of McMonagle's wellness classes in a survey. "I love these classes, as well as Mary's positive energy and motivating vibe."
Alumni Relations continues to offer new, interactive virtual events, including an in-depth event on home buying and a vegan cooking demonstration with faculty member Anthony Dissen, which one attendee referred to as the "best cooking show ever."
Alumni and friends can expect more virtual programming as the year continues from Fraternity and Sorority alumni social and happy hours to a new alumni conference on Diversity, Equity, and Inclusion, paint nights, and new programming and events for young alumni (graduates of the last 10 years).
To register for upcoming events visit, stockton.edu/alumnievents, or to propose new event ideas email alumni@stockton.edu.