Stockton Young Alumni Club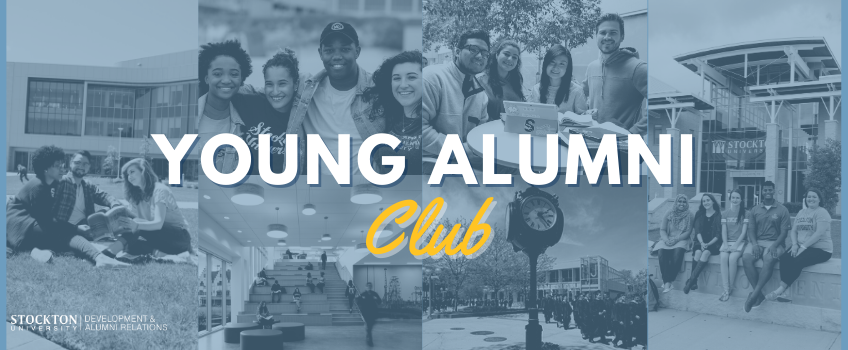 Young Alumni Club
The Stockton University Young Alumni Club (YAC) is for graduates of the last decade who have recently transitioned from students to alumni. As a member of the YAC, you will have the opportunity to connect with fellow Ospreys and determine what activities and events, career initiatives, and networking opportunities are available to Stockton alumni graduates of the last decade.
As a member of the YAC, you have the opportunity to:
Gain leadership experience and assume leadership roles
Build exclusive connections
Participate in networking opportunities
Get involved in creating programs and planning exclusive events
Become a mentor
Interested in learning more about the YAC?
---
Upcoming Events & Meetings
Bi-Monthly YAC Meetings
The YAC Advisory Board and current members meet virtually on the third Thursday every other month to discuss ways to increase engagement among Stockton's young alumni community. All young alumni are invited to attend these meetings to learn more about becoming a YAC member and get involved!
Next Zoom meeting:
Thursday, March 16 | 6 p.m.
---
Meet the YAC 2021-2022 Advisory Board:
Carl Archut, Jr. `16
Director of Development for Regional Giving, University of California, Davis
Breanna Betts `20
Barista, Hayday Coffee
Julie Coker `20
Licensed Social Worker
Michelle Di Liberto `20
Paraprofessional, Machester Township School District
Sutton Fineran `15
Admissions Ambassador Liason/Senior Clerk Typist, Stockton University
Shakuwra Garrett `15
Event Manager/Real Estate Professional, Neumans Kitchen/Real Estate
Nathaniel Geary `12
Real Estate Enterprise Owner/Manager
Matthew Greer `15
Program Coordinator for Fraternity and Sorority Life, Temple University
Charlie Nusbaum `14
Ph.D. Candidate, Economics, University of California, Santa Barbara
Kellee Statt `16
Instructional Designer/Software Manager/eLearning, Realtime Information Technology
---
For more information, please contact Kortney Butler, alumni engagement coordiantor, at 609-652-4527 or kortney.butler@stockton.edu.