Commencement FAQ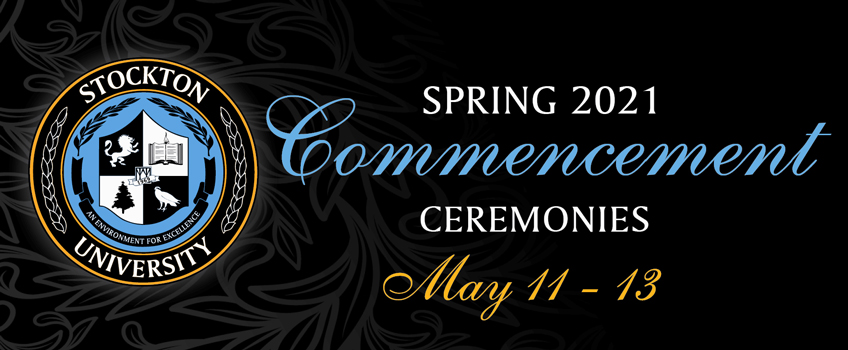 Commencement Ceremony
The University is hosting Commencement Ceremonies for the Class of 2021 on the Galloway campus Tuesday, May 11 through Thursday, May 13 in the Sports Center.
Class of 2021 graduates who have completed their degree requirements in Summer 2020 or Fall 2020 terms. Those who anticipate degree completion in the Spring 2021 term, applied for graduation, and have pre-ordered their Stockton regalia are eligible to participate in the 2021 Commencement Ceremonies Tuesday, May 11 through Thursday, May 13, 2021. Also, those approved who appealed to "walk" without graduating in the Spring 2021 term.
Graduates cannot request to be moved to an alternate ceremony. Each ceremony was scheduled based on projected participation and state mandated capacity limits for the venue.

Guest Tickets
There will be a limit of three guests per graduate. The guest tickets will be distributed electronically from noreply@universitytickets.com to the graduates go.stockton.edu email address no later than May 1, 2021. Graduates should monitor their email account (checking the junk mail folder as appropriate). The graduate is responsible for distributing the electronic tickets to the guests. Only three guests will be permitted to enter the ceremony site using the guest tickets. Guest tickets will be scanned at entry with a limit of one scan per ticket. Guests can either print the ticket or display the scan code on an electronic device. It is suggested that guests download and save a screenshot of their tickets to their device before arriving on campus. Guests will be seated individually or in household trios or pairs, six feet apart from other guests.
Due to state mandated capacity limits,
there will be no additional
guest
tickets available.
Each ceremony will be
broadcast via
livestream
at
Stockton.edu/commencement
for those unable to attend
in person
.

Commencement Day Information

Health and Safety
Click here
to see the State's current travel restrictions.
Smoking is prohibited in all facilities, parking lots
,
and walk
-
ways. Smoking is permitted only in the gazebo structures designate
d
for this purpose
.

Accessibility
General guest seating will be in the bleachers. ADA seating will be available on the arena floor. Graduate seating will be on the arena floor.
If a guest
or graduate
requires a wheelchair, they should plan to provide their own. 
Yes. Please see the parking map below. Campus Police will be on-site to assist with parking.
A
merican
S
ign
L
anguage
interpret
ation
for the hearing impaired
will be
shown
on the
arena
screens
.

Graduates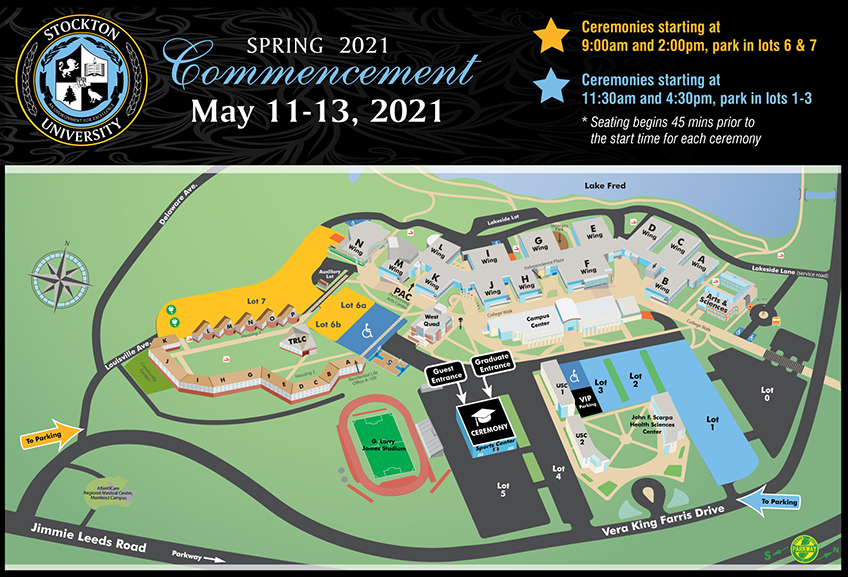 For questions about accessibility or to request an accommodation, please contact the Office of Event Services and Campus Center Operations at 609.652.4878 or event.services@stockton.edu at least 5 business days in advance of your participation or visit.