Dual Credit High School Enrollment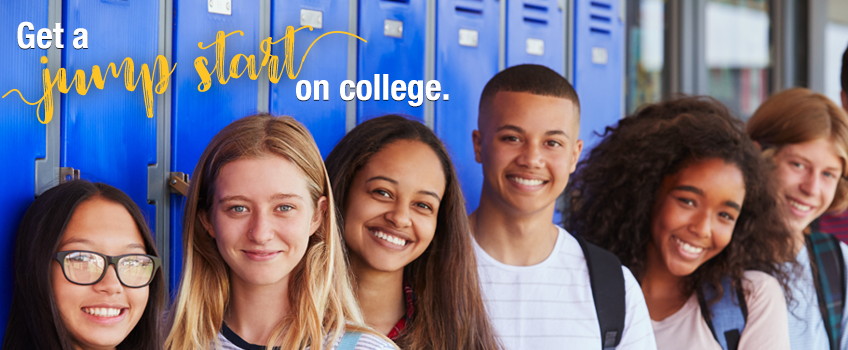 Looking to get ahead? Start planning your future EARLY by enrolling in the High School Dual Credit Program through Stockton University! The Dual Credit Program is an excellent way to get a jump start on your college education while saving money! In this program, a student can simultaneously earn college credits and complete high school course requirements!
Students that participate in this program get a reduced tuition rate of $100 per credit ($400/each four-credit course) with all additional fees waived. A four-credit course at Stockton University costs $2,339.32. A student could save more than $1,900.00 toward their future by completing ONE course in the Dual Credit Enrollment Program! Not only does the student EARN college credits, they SAVE time by entering college with completed credits. Students participating in the program also ENHANCE their skills required to be successful at the collegiate level while CHALLENGING themselves by taking accelerated, college-level courses that demand their highest level of performance. This program can immensely propel a high school student towards college success!
Steps to Becoming a Dual Credit Student:
Check with your high school to find out which courses are part of the Stockton University dual credit program and ask them how to sign up.
Complete the online dual credit application.
Register for your Stockton dual credit courses*
Make your payment*
*See important dates for more information.*
Important Dates and Information:
Payment is due in full by November 15, 2020.**
**Please note: All courses should be paid for by December 15, 2020 to avoid cancellation.**
*Course registration must take place before November 1st--your school will give you further instructions regarding the registration process.*
*Students who are eligible for free/reduced lunch earn dual credit for free.*
**For additional payment arrangements, contact the Bursar's Office.**
How to make a payment:
Login to your goPortal.
Go to 'My Account' box in the middle column.
Then click on, 'Make a Payment.'
This will prompt you to login to Touchnet, which will require the same login information as the goPortal.
Follow the prompts and choose your payment method.
You can also view our tutorial video below on how to make a payment: