The Alliance Heritage Center
Stockton University and its community partners are collaborating to establish a permanent Center with the vital mission of preserving and disseminating the history and culture of the Alliance Colony and related Jewish farming communities in Southern New Jersey.
The Alliance Colony, founded in 1882, was the first successful Jewish agricultural community in America. Colonists had escaped the brutal pogroms of czarist Russia and, with the support of Jewish philanthropists, settled in South Jersey. Their story from its roots to the present day deserves to be widely broadcast. It is an American story with life lessons that resonate both nationally and internationally.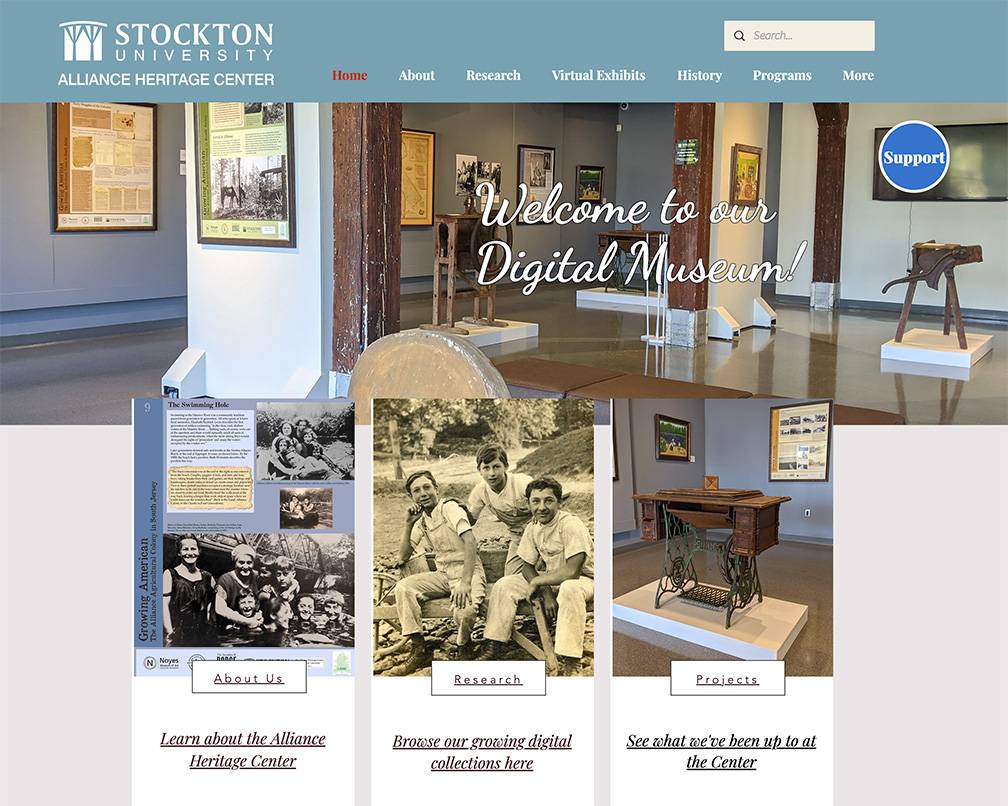 Announcing the Alliance Heritage Center Digital Museum
Please visit our digital museum of Alliance, now available
at https://www.allianceheritagecenter.com/
Envisioned as an ever-evolving digital exploration of Jewish farming in Southern New Jersey, the museum includes: a brief history of Alliance, Norma and Brotmanville along with nearby Jewish farming communities; curated photograph collections donated by descendants and community members; virtual exhibits and oral history interviews; an interactive timeline of events; informational videos; announcements of programming; and more.
The Growing American Exhibit
Nearly 140 years ago, Russian Jewish refugees fled persecution in search of a new life in South Jersey. Today, we tell their stories.
Stockton University's Alliance Heritage Center has teamed up with the Noyes Museum of Art of Stockton University to introduce the history of the Alliance Colony, the first successful Jewish farming community in America. Founded five miles outside of Vineland in 1882 by forty-three immigrant families, the colony survived many early difficulties, blossoming into the neighboring communities of Norma, Alliance, and Brotmanville. Making use of photographs, artwork, historic documents, artifacts, and film interviews, Growing American: The Alliance Agricultural Colony in South Jersey is poignant, often amusing, and always thought provoking.
The exhibition Growing American, was on display at the Noyes Museum galleries at Stockton University's Kramer Hall in Hammonton, New Jersey from October 1, 2021, through February 4, 2022. We hope to bring the exhibition to other sites soon (info will be available here). But you can see at least some of the exhibit in the Youtube virtual tour to the left, conducted by Tom Kinsella, the Elizabeth and Samuel Levin Alliance Heritage Center director.