Courtney Combs - Choose Stockton
Courtney Combs
Class of 2026
Why did you choose Stockton?
I chose Stockton based on the atmosphere when I stepped on campus. At first, Stockton was not my first choice, as I had this vendetta to go to an out-of-state university. But when visiting other campuses nothing matched the welcome that Stockton University gave me when touring the campus. It just felt like home and made me instantly want to apply and attend here.
How did you choose your major?
I am a communication major who is looking to go into the field of being an anchor either with sports or regular news. Growing up I was always told I was a great public speaker, or in other terms my mother would tell me that I could talk a lot and that I am such a social butterfly. That is part of the reason why I chose my major but, the reason why I specifically chose it was because I have a great love of journalism. I am always staying up to date on the latest news; mainly the news that can be found on social media and I really enjoy writing in general.
What have you gotten out of your academic program so far?
Thus far, I have become a T.A.L.O.N.S where I give new students a realistic view of academic, social, and emotional changes that may occur in their transition to Stockton by attending Orientation and Welcome Week events. Also, out of my academic program I am now working with Stockton University Relations and Marketing's TikTok account.
What other opportunities have you had at Stockton?
I had the opportunity to be the Student Speaker for Experience Stockton Day for Admitted Students event and was offered the opportunity to be a part of the Stockton Now podcast where I was able to interview the new dean in Arts & Humanities, Ian Marshall.
How is Stockton preparing you for the next stage of your life?
As I am in the field of communication, wanting to be in the broadcasting industry, Stockton has prepared me for the next chapter in my life by giving me opportunities to practice my skills. Simply by being able to interview people who attend Stockton University, doing a podcast, getting the experience of being on the radio station, being behind the camera, and talking in front of millions of people. I feel this is helping prepare me, so that I'll already have the experience before stepping into my next chapter of life and feel more comfortable when I go into my career.
What are your career goals?
When I think about careers and career goals, I envision my future being fluid. I feel I will have different points in my life where I will try different things. For starters, becoming a journalist would be my first career goal as I enjoy staying up to date on current events and writing, next would be a news anchor as I love media platforms and enjoy being behind a camera. To continue being a sportscaster would be another goal as I enjoy sports and love to talk about the game. So being able to provide commentary is something I would really enjoy doing. Lasty, becoming an influencer as I would enjoy being able to promote and make a difference in the world.
What advice do you have for students thinking about attending Stockton?
The advice I would give for students thinking about attending Stockton would be to get involved, as getting involved will help you be more active and have a better network around campus with opportunities and connections that you wouldn't have been able to make If you stayed in your dorm all day or just went back home.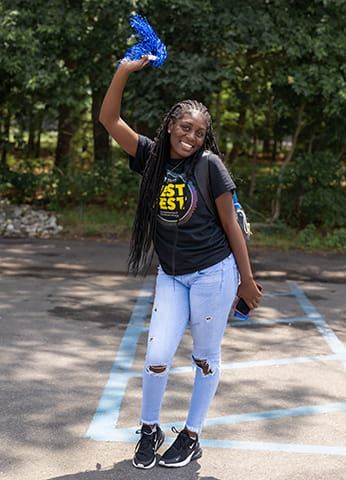 ---