Giving is Living
Giving is Living
Gianna Graw '18 continues father's legacy of kindness.
By Mandee McCullough '04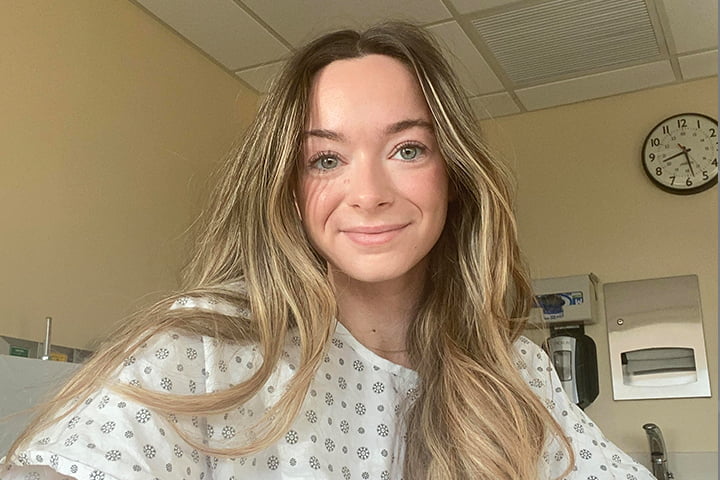 T he saying, "the apple doesn't fall far from the tree," could not be more true about Gianna Graw '18 of Lyndhurst and her late father William, whose memory inspired her to make a selfless gift- a kidney donation.
Graw, who received her bachelor's degree in Psychology from Stockton, lost her father to cancer in 2016. He was a Jersey City police officer who cared deeply for his family and community.
"He would do anything for anyone, and I grew up seeing that compassion every day. He was a really interesting guy; he loved baking, gardening, collecting currency and was also very passionate about helping the elderly," Graw gushed. "Watching him throughout my life was what inspired me to donate, wanting to be able to live up to his legacy of helping others. If someone needed a kidney and he knew about it, I'm sure he would've offered his as well."
While at Stockton, she learned about the concept of kidney donation. "At the time I thought it would be an amazing opportunity to literally save someone's life, but always thought of it as something I would do in the future. As time passed, I kept the idea in my thoughts and once I felt it was the right time, I decided to pursue the idea and begin the process for testing."
The process was daunting, one that required a lot of patience and faith. "You need to be approved to be a kidney donor and it takes quite a few tests to receive that approval. The waiting for the approval and wondering if I would be approved at such a young age was difficult, but I just had to keep faith that my life would lead me where it was supposed to, whether I was a kidney donor or not."
Then COVID-19 took hold of the country, and having faith and patience became even more paramount. Graw reflected on how hard it was to put everything on hold after finally being approved and trust in the universe once again.
I think it's impacted my life in the sense that I carry someone else's life in my heart and I'm happy to share a part of me with someone else.
"I grew comfortable with understanding that things are out of my control and sometimes there's just nothing I can do. It ended up working out in everyone's favor because had I not waited to have surgery, I wouldn't have been involved in Hackensack University Medical Center's partnership with the National Kidney Registry, which is why the kidney donation was able to help four people instead of just one."
The National Kidney Registry (NKR) matches donors nationwide and builds chains. Timing is everything, as this partnership had only begun a month before her surgery.
Graw spoke candidly about what it meant to her to be part of this chain of hope for others. "I think it's impacted my life in the sense that I carry someone else's life in my heart and I'm happy to share a part of me with someone else. It also inspires me to continue to do right by my father as well as try to create my own legacy of kindness and compassion. The feeling of knowing you saved someone's life is just indescribable and I want to continue to help others even if I can't donate my other kidney."
A release from the hospital said Graw's donation "kicked off a zig-zagging bi-coastal chain of four kidney transplants in Los Angeles, California; Tampa, Florida; Los Angeles again; and finally, San Francisco, California." She was the hospital's first "good samaritan" patient with the NKR, which helps find matches for kidney donors.
Graw, who just received her master's degree in Higher Education, currently works in retail at Free People. She aspires to mentor college students and work with those who have disabilities.
"I learned that I'm truly capable of anything I set my mind to. I thought that right before surgery I would be so overwhelmed by fear that I wouldn't go through with it, but I did. I knew what I wanted, and I knew I just needed to fight the fear. Sometimes the best events happen when you face your fears. Job interviews are always nerve-wracking for me since I've recently been on the job hunt, but now every time I have one, I think, 'I can never be as scared as I was two minutes before surgery began,' and somehow it makes me feel better," Graw reflected. "I also learned that there's no better feeling in the world than helping others. Giving is living."
Learn more about Stockton's School of Social & Behavioral Sciences