Distinctively Stockton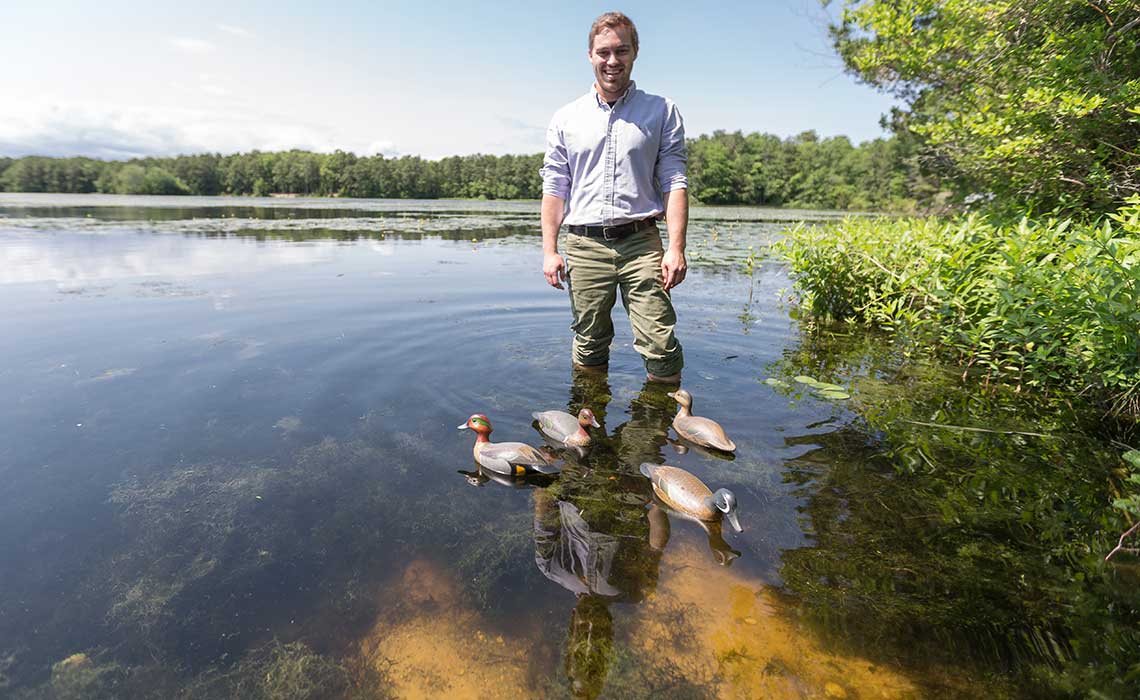 A pair of American Oystercatchers rest motionless and silent on a Cape May beach.
Despite their calmness, they upset a nearby pair of oystercatchers that descend from the sky to defend their nesting territory. The stationary pair are decoys, carved and painted by Cooper Rossner '18, a Political Science graduate and a former U.S. Fish and Wildlife Service biological science technician.
A cannon net is triggered, sending a fine mesh over the birds and decoys. Scientists quickly uncover and band the oystercatchers to track their movements and log valuable data that will inform conservation efforts.
The mission is made possible by Rossner's lifelike wooden birds.
In addition to banding, Rossner's decoys are used by New Jersey Audubon to attract terns and skimmers to potential nesting colonies in suitable habitats.
They've paid for his school books too.
An outdoorsman and self-described bird nerd, Rossner is intrigued by South Jersey's coastal ecology and appreciates the history and culture surrounding its old growth Atlantic white cedar swamps and tidal creeks.
He admits he's obsessed with decoy carving, a traditional Eastern seaboard craft with American origins, that blends his interests in nostalgia and nature.
During his junior year at Cape May County Technical High School, local carver and guest speaker Jamie "J.P." Hand shared the art of decoy carving. "I remember his hatchet chopping through the wood and thinking, 'I have to get in on this,'" recalled Rossner.
Instantly motivated to try his hand at the craft, he got started on his own, but after connecting with Hand, he spent nearly every day for two years with his new mentor, carving and honing his skills on Hand's farm in Goshen. A bond was formed.
Hand has been carving duck decoys for 47 years and teaching others for almost that long. He's helped many carvers, but "Cooper is what I call a natural. He catches on quickly, but he also has that natural artistic talent, and even more importantly he has the drive to stick with it."
Hand notes Rossner's many talents, calling him a young renaissance man.
"He tackles everything I've seen him do with a fervor," he added.
On an afternoon at Lake Fred, Rossner mixes a warm umber-colored paint with glaze and brushes a vintage finish over a pair of Green-winged teal, a small duck that dabbles through vegetation while feeding.
As he tosses one into the lake, a chain pickerel bolts to deeper water. After a splash, the decoy, weighted and constructed like a boat, rights itself and slowly glides across the surface.
The artistic process of carving is only part of the lure for Rossner. Like his shorebirds that have a role in science working the beaches with biologists, Rossner's waterfowl work the water.
His ducks go swimming on hunts with his German shorthaired pointer, Pilot.
The name for his bird dog was inspired by Hand's stories about the history of Delaware River pilots who navigated ships past hazardous shoals to ports along the river, now published in The Cape May Navy: Delaware Bay Privateers in the American Revolution, a book by Hand and Daniel P. Stites.
Rossner is currently in the Teacher Education program to pursue a career teaching social studies. A love of history inspired by his family and connections to the natural world and the region's past promise to enrich the lessons he teaches.
He is carving a legacy of conservation—to preserve the past as an ambassador for the craft and to support the science striving to preserve populations of shorebirds.
"I'm sure he'll stick with decoy carving for as long as he lives and he'll rank up there with the best of them. But more importantly, Cooper can say that he's brought people to the craft," Hand said.
-Story by Susan Allen '09, '14