Spotlight On

'A Second Chance'
Marie Mockers Numata '86 remembers how one conversation at Stockton had a positive influence on her life.
By Maryjane Briant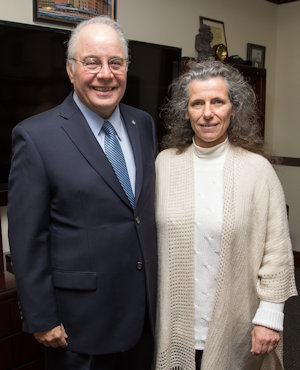 Harvey Kesselman and Marie Mockers Numata
Marie Mockers had been homeless for two years and was feeling guilty about having a roof over her head at Stockton when her family did not. One day in the summer of 1982, she went to the office of Harvey Kesselman, then the director of the Educational Opportunity Fund, to tell him she was ready to quit the summer program she had been accepted into, prior to starting her freshman year.
"I came to tell you that I was leaving," recounted the graduate now known as Marie Mockers Numata, when she met with now-President Kesselman on campus this spring. "Things had been hard and I carried a guilt that I had a warm, clean bed with food on the table while the rest of my family did not. You did not know any of that. I wanted to go find a job and help out my family. My mind was not into my studies. I felt very unsettled."
Numata recalled how Kesselman pulled out a box of tissues and put it in the middle of the table and told her, "Marie, when we looked at your transcript, we saw that you had good grades as a freshman, and your grades started to go down in the middle of your sophomore year, crashed in your junior year and started to pick up in your senior year. We accepted you into this program because we felt that something social/economical was going on in your home and wanted to give you a second chance."
"A second chance." Numata told Kesselman that those words have resonated with her since that day.
"When I left your office that afternoon, I promised myself that I would get no less than a B in my classes," Numata told Kesselman. "I was an ESL student. For every one hour of homework an English-speaking student had, it took me three hours - and I was studying sciences. I worked non-stop and graduated with all B's and A's. I honored that second chance to the best of my ability while I was at Stockton."
Kesselman was touched. "It's great for me, in this role, to see you because I don't get the opportunity to connect with students in the same way now as I did then," he told Numata. "You forget the impact that you had and it's really nice to hear that a moment in my office 25 or 30 years ago had such a positive influence."
Today she teaches in public schools in New Jersey, and lives in Mercer County with her husband and three children. She said she passes on the lesson she learned from Kesselman to her students, "especially to the ones in need of support."
"Where would I be today if I had not obtained my college degree?" asked Numata. "Looking at other people around me, life would have been a lot harder! A college degree allowed me to open my doors on an international level and work across the seas."
At Stockton, Numata majored in Environmental Science and recalls classes with John Sinton and George Zimmermann, both professors of Environmental Studies. "He is the one who allowed me to write my internship with the state - to bring back the Bald Eagles and to protect endangered shorebird species in New Jersey," she said of Zimmermann.
After graduation, Numata taught a year at a homebound school for juvenile delinquent teenagers, and eventually went to Japan for three months on an environmental exchange - and ended up staying 14 years.
While in Japan, she was invited by the Japanese Raptor Society, as a guest speaker to help save Lake Nakaumi/Tottori Prefecture, a 10,000-hectare lake where birds from all over the world migrated, but which was threatened by development. "I was invited to give a talk on why environmental protection is important, because the ecology of the lake was going to be overturned overnight," she explained.
"I came into this hall where there were 300 people - the entire Japanese press and top financial and cultural people were there," she recounted. One man asked her why the lake was so important to her.
"I went back [in my mind] to Stockton and 'think globally, act locally.'" Jan Colijn, retired dean of the School of General Studies, coined that phrase here.
"Stockton gave me the strength to talk, and it was on the front pages," she said. Because of Numata's actions, local people took up the cause and the lake was saved and was turned into a national wildlife refuge with an educational center.
Numata's visit came about after news of Kesselman's inauguration sparked her to email him telling her story and saying: "Thank you for that 'Second Chance.' Stockton is lucky to have you as its president!"