Osprey News

Women's Track & Field Wins First NJAC Championship
On May 7, for the first time in University history, the Ospreys won eight events and used their depth to post a team score of 236 to finish 17.5 points ahead of second-place Rowan University, who was the two-time defending NJAC champion.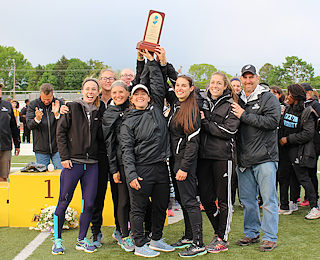 Women's track & field became the sixth sport in which Stockton has won a conference championship, joining men's basketball, women's basketball, men's soccer, women's volleyball and women's cross country. The Osprey women's cross country squad won its first NJAC title in Fall 2016 and was joined by women's outdoor track & field as Stockton's two conference champions for the 2016-17 academic year. Several student-athletes were members of both the cross country and outdoor track teams.
The Ospreys' drive to the title was spearheaded by six competitors who won a total of eight individual NJAC crowns. Seniors Alicia Belko (5000m, 3000m steeplechase), Emily Higbee (hammer throw, shot put) and Cassandra Hrusko (1500m), juniors Joanna Carluccio (heptathlon) and Kaitlyn Dermen (pole vault) and sophomore Cierra Granger (400m) were Stockton's event winners.
---
Men's Basketball Team Wins First ECAC Championship
The Stockton men's basketball team won four games during a five-day span of March 1-5 to win the program's first Eastern College Athletic Conference (ECAC) championship. With the four-game run to the title, the Ospreys finished 18-11 under Interim Head Coach Scott Bittner, who took over after the retirement of Gerry Matthews last summer.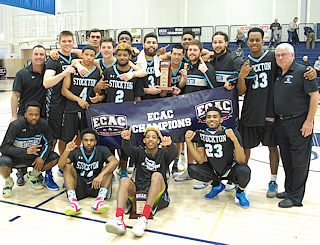 The Ospreys rallied from a 14-point deficit to defeat Penn State Behrend 74-72 in the ECAC championship game and capture the title of the 12-team tournament. Earlier in the week, the team topped Baruch College 79-74 in the first round, Carnegie Mellon 84-74 in the quarterfinals and then Bethany College 83-63 in the semifinals.
Sophomore Kashaun Barnes was named Most Valuable Player of the ECAC Tournament. Barnes scored a career-high 25 points in the championship game and averaged 16.8 points and 7.0 rebounds during the four-game run. Junior Marcus Harmon joined Barnes on the All-Tournament Team after averaging 14.5 points and 5.5 rebounds in the tourney.
The ECAC Tournament is an annual postseason event that features teams from throughout the Northeast. The 2017 field included NCAA Division III squads from Massachusetts, New Jersey, New York, Pennsylvania and West Virginia.
---
Jared Lewis Wins NCAA Championship in Indoor Triple Jump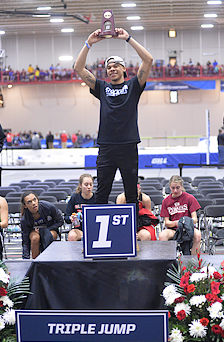 Stockton University junior Jared Lewis won the national title in the triple jump at the NCAA Division III Indoor Track & Field Championships on March 11. The NCAA meet took place at North Central College (IL).
Lewis jumped 15.05 meters to win by 38 centimeters, or just under 15 inches. He became Stockton's first NCAA individual champion since Paul Klemic in 2006 (outdoor long jump) and won the 10th solo NCAA crown in University history.
Lewis made his fifth appearance at an NCAA Championship meet (three indoor, two outdoor). With the win, he qualified for his sixth career All-American honor, tying the school record shared by Klemic (2005-06), Lisa Shepherd (2007-10 long jump) and Chelsea Vaughan (2014-16 pole vault). Prior to breaking through for his first NCAA title, Lewis previously finished third in the triple jump and eighth in the long jump at the 2016 NCAA indoor meet. He was the NCAA outdoor runner-up in the triple jump this year and last season. He also was eighth in the long jump last season plus eighth in the outdoor triple jump as a freshman in 2015. All-American status goes to the top eight finishers in an event at the NCAA Championships.
Kevin McHugh To Lead Ospreys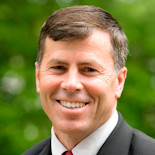 Kevin McHugh, a New Jersey native who comes to Stockton after a highly successful 10 years as director of Athletics at Bates College in Maine, was named to lead the Ospreys as executive director of Athletics & Recreation beginning July 1.
McHugh brings over three decades of experience, with earlier positions at Yale University, Bowling Green State University and The College of New Jersey.
McHugh graduated from Columbia University with a B.A. in Latin American studies in 1978. While there, he wrestled varsity all four years and twice was team captain, earning All-Ivy honors. McHugh holds a M.S. in Sport Management from the University of Massachusetts, where he was an assistant wrestling coach and junior varsity football coach. He chaired the NCAA Division I
Wrestling Committee, and the National Wrestling Coaches Association inducted him into the Division III Wrestling Hall of Fame for his contributions to the sport.


Visit the Stockton Athletics website.