News Briefs

Commencement 2017
Stockton Celebrates Largest Commencement Ever at Atlantic City Boardwalk Hall
Stockton University on May 12 held its largest Commencement ceremony ever – and its first in Boardwalk Hall in Atlantic City, the community where Stockton's first classes were held in 1971 and where steel is rising for a residential campus set to open in fall 2018.
"This is awesome!" said University President Harvey Kesselman, looking around as close to 10,000 cheered in the storied arena, built in 1929 and home to the world's largest pipe organ and countless major events including the Miss America Pageant, the 1964 Democratic National Convention, and the nation's first indoor football game. "As president of this extraordinary institution, I have the distinct privilege of being the first to say: Let's give it up for the Class of 2017!"
A record total of 1,556 graduates from the Schools of Arts and Humanities, Business, Education, General Studies, Health Sciences, Natural Sciences and Mathematics, and Social and Behavioral Sciences earned degrees this spring, including 1,339 undergraduates on May 12 and 217 who earned advanced degrees from Stockton's 13 master's and doctoral programs in a separate ceremony held in the Sports Center on Stockton's main campus in Galloway on May 10.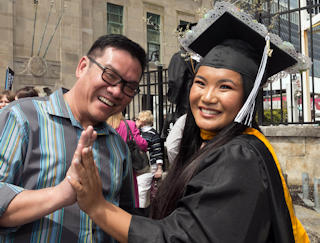 AtlantiCare OR Nurse Warren Flores congratulates his daughter, Charisse Flores, on receiving her nursing degree from Stockton University at the Boardwalk Hall ceremony on May 12.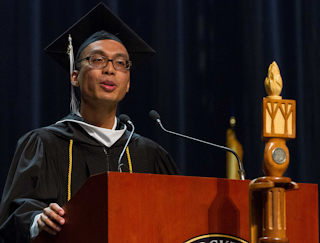 Joachim Cendana, a Liberal Arts graduate, delivers the student address at Commencement on May 12.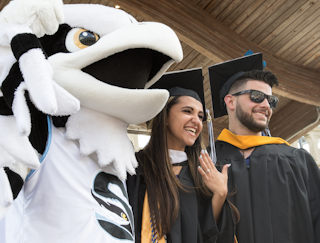 Scott Scerbo, a Business graduate, got down on one knee to propose to his Stockton sweetheart Catherine Dell Elba, an Education graduate, at Kennedy Plaza.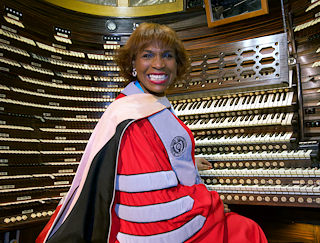 Beverly Vaughn, professor of Music, at the organ at Boardwalk Hall during Stockton's Commencement ceremony on May 12.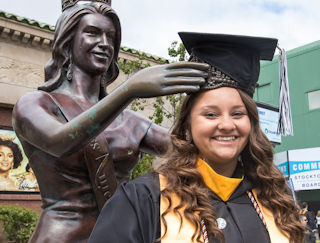 Nursing graduate Morgan Cosgrove is crowned with a commencement cap by Miss America on the Atlantic City Boardwalk at Stockton's Commencement ceremony on May 12.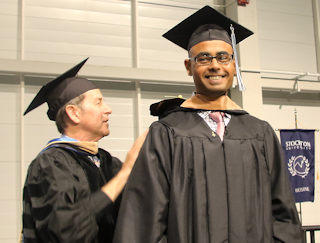 Amar Shah is congratulated on earning his MBA by Business Studies Professor Michael Busler at the Master's and Doctoral Commencement held May 10.
---
Stockton Breaks Ground in Atlantic City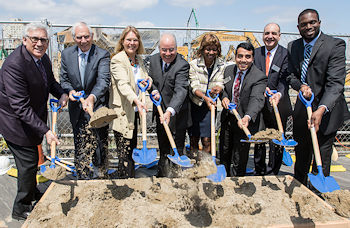 Stockton President Harvey Kesselman joined Gov. Chris Christie, state Senate President Stephen Sweeney, Atlantic City Development Corp. (AC Devco) Chairman Jon Hanson, and South Jersey Industries President and CEO Michael Renna on April 20, to break ground for the $220 million Atlantic City Gateway Project, which includes Stockton's new residential campus.
Kesselman said that the ceremony "launches a new chapter in this city's history and celebrates how Stockton continues to honor its original motto of 'plant yourself where you can grow.'" Stockton held its first classes in the Mayflower Hotel on the Boardwalk in Atlantic City in 1971, and has grown from 1,000 students to nearly 9,000, said Kesselman, adding that another 1,000 or more will be attending classes at the new Atlantic City campus in Fall 2018.
Members of the Stockton Board of Trustees and the University Foundation attended, along with Stockton faculty and staff and many government officials and business leaders, including Chris Paladino of AC Devco.
Learn more about Stockton's campus in Atlantic City.
---
Nancy Taggart Davis Named New Trustee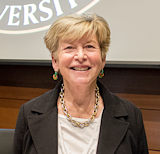 Nancy Taggart Davis, the mayor of Beach Haven and a Professor Emerita of Pathology at Stockton, was sworn in as a member of the Board of Trustees on May 3. Davis taught at Stockton from 1973-2015, and served from 1984-87 as dean of the Division of Professional Studies, which included business, computer and information science, health sciences and education. She has been mayor of the Long Beach Island community since 2015, where she had previously served as a councilwoman and as president of the Borough Council.
---
SARTP Groundbreaking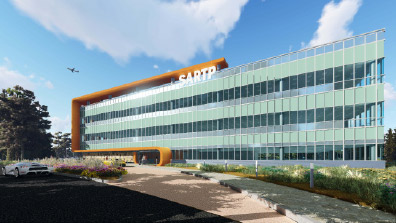 On May 15, federal, state, county, municipal and university officials broke ground for the first of seven buildings at the Stockton Aviation Research and Technology Park (SARTP). The $17.2 million, 66,000-square-foot building is being constructed in the 58-acre park, located adjacent to the FAA William J. Hughes Technical Center, the nation's premier air transportation laboratory, and the Atlantic City International Airport. The park's campus-like setting is designed to promote collaboration among business, academia and all major research arms of the federal government. Construction of the first building is scheduled for completion in mid-2018.
---
Stockton Professor Meets With Pope Francis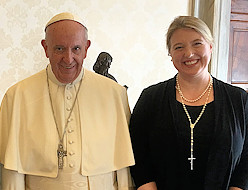 After meeting with students and members of persecuted minority groups in Iraq, Elisa von Joeden-Forgey, who is Stockton's Dr. Marsha Raticoff Grossman Professor of Holocaust and Genocide Studies, met with Pope Francis at the Vatican on May 5. Von Joeden-Forgey and her colleague, Irene Victoria Massimino, an Argentine human rights lawyer, discussed the situation of Christians and other religious minorities in Iraq threatened with genocide by ISIS.
---
Pappas Visiting Scholar Series Features Anna Deavere Smith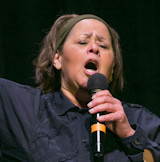 Anna Deavere Smith, a nationally known playwright, educator and actress, presented "Snapshots: Portraits of a World in Transition" as part of the Dean C. and Zoe Pappas Visiting Scholar Series on April 6. Smith recreated moments from conversations she has had with 250 people, sparking a variety of emotions and points of view on timely issues.
Read the latest news from Stockton online and follow us on Facebook, Twitter, YouTube, Instagram and SnapChat.