Where are they Now?

1977
Debra Sommers '77, an eighth grade science teacher at Galloway Township Middle School, was featured in New Jersey Education Association Review magazine for starting an outdoor classroom in honor of sixth grade teacher Guy Buckelew, affectionally known as Mr. B. Mr. B's Backyard Classroom gives teachers and staff the opportunity to educate students about the amazing ecosystem that surrounds their environment. Sommers received her bachelor's degree in Environmental Studies from Stockton.
---
1980
Sandra J. Mueller '80, warden of the Ocean County Department of Corrections, discussed Stockton University's impact on her career after being presented the Distinguished Alumni Award during the Psi Chi Research in Psychology Conference on April 20. Mueller had worked in the casino industry and as a construction worker in Atlantic City prior to becoming an inmate counselor in Ocean County. "Everything I studied at Stockton is important to where I am. I arrived on this campus as one person and left completely changed," Mueller said. "That is a sign of a great education." Mueller earned a B.S. in Psychology from Stockton.
---
1983
Cookie Till '83 of Steve and Cookie's was recently named a James Beard Award semifinalist for "Outstanding Restauranteur." Till received her bachelor's degree in Liberal Studies from Stockton.
---
1987
Lori Holdren '87, M.A., Ph.D., was recently named general education program chair at American College of Healthcare Sciences, where she will continue to teach undergraduate courses in math. Holdren also conducts work with the college's Center for Excellence in Teaching, Technology, and Assessment, overseeing general education program reviews, research collaborations with industry credentialing organizations and developing new course offerings. Holdren received her bachelor's degree in Mathematics from Stockton.
---
1988
Michael D. Bell '88 is a realtor with Century 21 Schmidt Real Estate in Venice, Florida, and achieved top in sales in 2019. Upon graduating from Stockton, Bell began his career with the State of New Jersey, Department of the Treasury. He obtained his CPA license in 1992. He then relocated to Florida in 2016 and obtained his real estate license in 2017. He enjoys assisting buyers and sellers in Florida, as well as those relocating from throughout the United States, Canada and Europe. Bell received his bachelor's degree in Business Studies from Stockton.
2002
Ned Gaine '02, an Atlantic County aquaculture farmer, was chosen as New Jersey's 2020 Outstanding Young Farmer by the New Jersey State Board of Agriculture. Gaine and his wife, Olga, are one of 10 finalists for the National Outstanding Young Farmer Award. He was recognized for the New Jersey honor at the 2020 New Jersey State Agricultural Convention in Atlantic City. Gaine received his bachelor's degree in Marine Science from Stockton.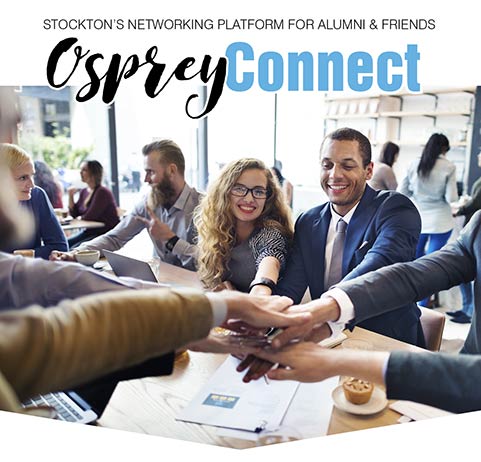 ---
2005
Susan Adelizzi-Schmidt '05, president of Suasion Communications Group and Stockton adjunct instructor, was recently selected as a 2020 Ragan's Top Women in Communications Awards Honoree. Adelizzi-Schmidt received a bachelor's degree in Business Studies from Stockton.
---
2018
Veronica Rowland '18, AmeriCorps Changebuilder Community Engagement coordinator, participated in the Covenant House Sleep Out in Atlantic City with Stockton staff member Elyse Smith and current Stockton student Krystiana Jalosjos to raise lifesaving funds to provide safe shelter and opportunity for homeless youth. Rowland received her bachelor's degree in Sociology and Anthropology with a minor in Political Science from Stockton.