Behind the Lens with Joseph Petrilli '16
Behind the Lens with Joseph Petrilli '16
Alum blends passions into his profession.
By Susan Allen '09, '14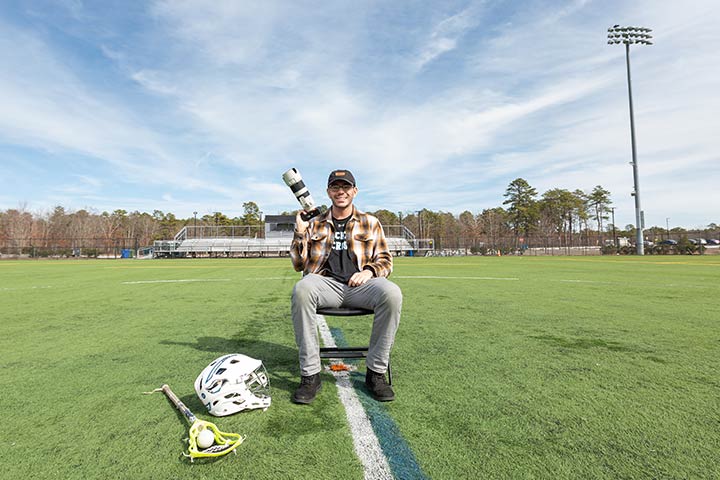 Joseph Petrilli '16 looked through his camera's viewfinder at an empty chair positioned at the center of Stockton's synthetic turf field.
As he calculated the scene, he communicated back and forth with Jeff Topping and Nicholas Georgel of Production Services to focus a second camera on men's lacrosse coach Kevin Zulauf, who would be arriving any minute to be interviewed for an Athletics DocuSeries.
As a Stockton student, Petrilli spent most of his time on the turf field with Coach Zulauf as a player on the men's lacrosse team, but on this late winter afternoon, he was back on the field as a Stockton staff videographer, blending two of his passions.
Rewind...
Petrilli found his interests in lacrosse and filmmaking while attending Absegami High School.
As a Stockton freshman, his journey wasn't yet clear. Petrilli, who has always been intrigued by how the mind works, started as a Psychology major and quickly realized he was missing something.
"Everyone knew me as the media and video guy in high school," he said, recalling his days as Gami TV's anchor where he and his best friend broadcasted news to the entire school. "Why did I stray from that?" he asked himself.
At the time, social media outlets were still in their infancy and careers in visual communications and storytelling didn't exist yet. Despite the uncertain career path, Petrilli decided to stick to his passion. He switched his major to Communication Studies and began his journey as a filmmaker.
As a former student-athlete, Petrilli naturally has an eye for the stories on and off the field and behind the scenes in the stands, locker rooms, dugouts and gyms.
"I made it a point to dive into the sports field full force to see where it would take me. The first person I texted was Coach Zulauf," he explained.
Capturing History...
After that, Petrilli was back on the field at practice, interviewing the team and capturing highlights from their games in a freelance capacity.
During preseason in 2019, Petrilli asked team members to share their goals. The answer was unanimous—to win the conference championship and to get the first bid to the NCAA tournament in school history.
"Little did I know that was the season they would win their first conference championship against Montclair, so I pretty much documented their best season in school history," he said.
Had a camera been filming Petrilli, it would have shown him jumping and cheering with the team after panning from the action of the game-winning goal to the sudden burst of celebration from the players.
Recalling that moment, he said, "I'm sweating as it's happening, my heart is racing 100 miles per hour. In my mind, I'm asking myself, am I capturing the shot correctly, is this looking good, and then to, oh my, something epic is happening, and I'm here to capture it."
"

Whenever you envision something, you do whatever you have to do to get that shot."

After the game, Petrilli couldn't wait to get home. His memory cards were holding momentous footage, and he was anxious to make an edit for the team, fans and coaches to watch the history that was just made.
"When you've been an athlete, you know the adrenaline they're feeling. When you're recording it, and know you're eventually going to deliver it to someone, you have a similar adrenaline rush," he said.
When Zulauf watched the highlight video, it took him right back to that moment.
Fast Forward...
"Joe is a great person and very dedicated to his craft. He put in a tremendous amount of time capturing priceless footage that will positively impact our program forever. Through his editing, he was able to tell a story while putting the viewer right in the middle of the action," said Zulauf.
Petrilli's lacrosse films attracted thousands of views on his social media feeds and opened the door to an official partnership between Production Services and Athletics to create a DocuSeries on all Stockton sports as well as highlights from intramurals and the strength and conditioning program.
On the field, Petrilli puts himself in the action.
"Whenever you envision something, you do whatever you have to do to get that shot," he explained.
Sometimes that means riding in the back of a golf cart, stabilizing a camera while bouncing over rough terrain, with the cross country team chasing you.
When a team loses, there's still an important story to tell. "Even in a loss, which people think is a challenge to capture, I look for the moments in the game that the team learned from and the part where the team tried to fight back. I want the viewer to understand what that game meant to the team at that time," he said.
Petrilli captures a team's vibe and persona. He turns away from the game to look back at the bench to see teammates getting hyped. He looks past the team at their families and fans in the stands to capture their reactions too.
When recalling the lacrosse team's 2019 win Petrilli said, "I'll carry that memory with me forever. And hopefully there will be more memories I capture that are similar."