Osprey News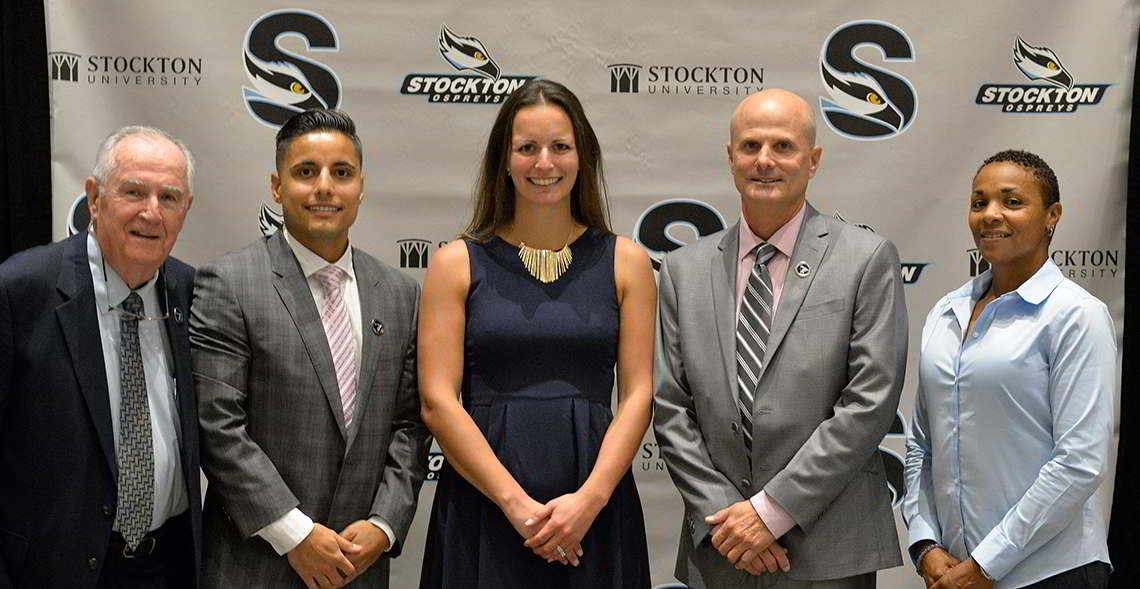 Stockton Inducts 2017 Hall of Fame Class
Stockton Athletics inducted its eighth Hall of Fame class on Oct. 6 during University Weekend. The event began with opening remarks from President Harvey Kesselman and was preceded by a moment of silence in memory of long-time Stockton men's lacrosse coach Dick Rizk. The inductees were Santini Lancioni '12 (men's basketball), Linda Long '93 (women's basketball), Lisa Shepherd '10 (women's track & field) along with coaches Jeff Haines (men's soccer) and Gerry Matthews (men's basketball).
Lancioni, 2009 NABC First Team All-American, 2009 NJAC Player of the Year and two-time NJAC First Teamer, thanked his brother Mario and Coach Matthews for contributing to his success. Long, three-time NJAC All-Conference honoree and Stockton's all-time leader in steals, served in the U.S. Marine Corps for 20 years between graduating Stockton and obtaining her Master's degree to coach. She thanked Stockton women's basketball coach, Joe Fussner, for making her a better person. Shepherd, six-time All-American and eight-time NJAC champion in the high jump and doctor in physical therapy, thanked Stockton faculty for supporting her throughout her journey.
Haines and Matthews shared an office for 17 years. Haines, who had heart surgery over the summer, is the only coach in Stockton's history to guide a team to an NCAA championship, which came in 2001 for men's soccer. Matthews, the winningest basketball coach in New Jersey history with 603 wins, had only eight assistant coaches over his 30 years at Stockton. He thanked President Kesselman, who was instrumental in elevating the first Stockton coaches, including Matthews and Haines, to full-time status in 2000.
Visit the Stockton Athletics website.