A Community for Recovery
A Community for Recovery
New housing option at Stockton aims to support addiction recovery.
by Marielena Dottoli '18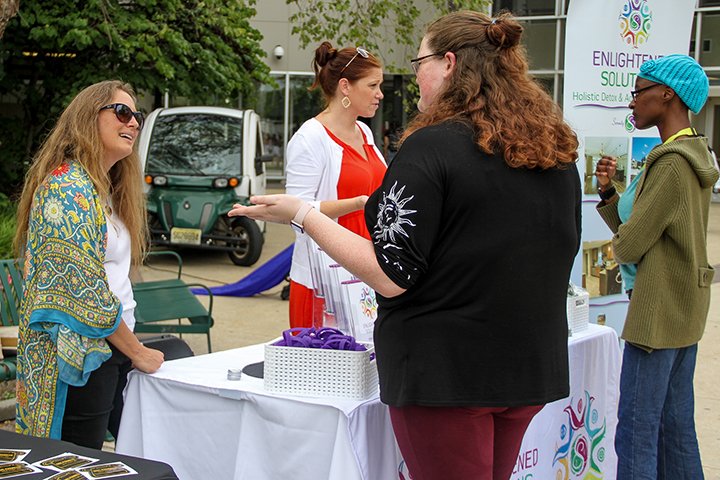 New Jersey is no stranger to the drug epidemic that has affected much of the U.S in recent years.
According to the National Center for Health Statistics at the Centers for Disease Control and Prevention (CDC-NCHS), national overdose deaths from drugs more than doubled to over 50,000 from 2004 to 2015. Data from the CDC shows New Jersey saw a 16.4 percent increase in the drug overdose death rate from 2014 to 2015.
In response to the rise in drug overdoses and related deaths, national and state organizations like the National Institute on Drug Abuse and the National Council on Alcoholism and Drug Dependence sponsor research and recovery programs designed to prevent drug abuse and to support those recovering from addictions.
New Jersey Gov. Chris Christie signed a new law in Spring 2015 requiring state colleges and universities with substantial residential populations to implement recovery housing programs by Fall 2018.
"Recovery is a difficult task and for people to remain sober, they need adequate support," said Michael Levin, assistant director of Counseling Services at Stockton.
Beginning this fall, Stockton University began offering recovery housing options to students.
Those enrolled in Stockton's Recovery Housing Community are required to attend addictions counseling, weekly closed and open group sessions, including S.M.A.R.T. self management and recovery group meetings, and evening and weekend events, all of which are offered by the University to assist students as they maintain their sobriety.
Participants have support from a dedicated resident assistant, invested personnel and a community that aids in balancing the demands of recovery and academics.
To be eligible for recovery housing, participants must be Stockton students who have been sober for at least three months, eligible to live in campus housing and able to participate in an in-person or telephone interview with Wellness Center and with Residential Life staff members.
"It is our goal to provide the best clinical services, counseling, prevention, social support, 12-month housing, quality programming and all wellness aspects to keep our students well and support them in their [recovery] journey," explained Patricia Kelly, associate director of Residence Education at Stockton.
"

Whether it is a relative, a friend or friend of a friend, we know our students are affected by this epidemic."
The Wellness Center offers counseling and group support services with licensed counselors who are trained and skilled in working with addictions.
The University also sponsors programs aimed at reducing the stigma surrounding recovery, providing the tools and the community support needed to bring awareness to the issue and helping those in recovery.
Some of these programs and events include LollaNoBooza, an alcohol-free night of fun and games to bring awareness to the dangers of drug and alcohol use and abuse, and Naloxone training for those interested in learning how to administer the antidote to someone experiencing an overdose.
In 2016, the Wellness Center and the Office of Residential Life collaborated with Atlantic Prevention Resources to offer 100 free medicine lockboxes for residential students. The medicine lockboxes provide students control and limit outside access to medications.
This fall, the recovery housing community hosted "We Love Our Students," an event allowing Stockton support groups and local organizations to gather on the main campus in Galloway and provide the Stockton community with information about recovery. Attendees also shared handwritten messages of encouragement on a Wall of Hope.
"Whether it is a relative, a friend or friend of a friend, we know our students are affected by this epidemic," Kelly said. "The goal of Stockton's recovery programs is to support students in recovery, so they can take advantage of all that our campus has to offer and succeed."
Students struggling with addiction or in recovery can receive help by contacting the Wellness Center at 609-652-4722. Those in recovery looking to reside in campus recovery housing can contact the Office of Residential Life at recoveryhousing@stockton.edu.