Beachfront Living & Learning
Beachfront Living & Learning
Stockton's new Atlantic City campus promises opportunity for collaboration.
by Daniel J. Douglas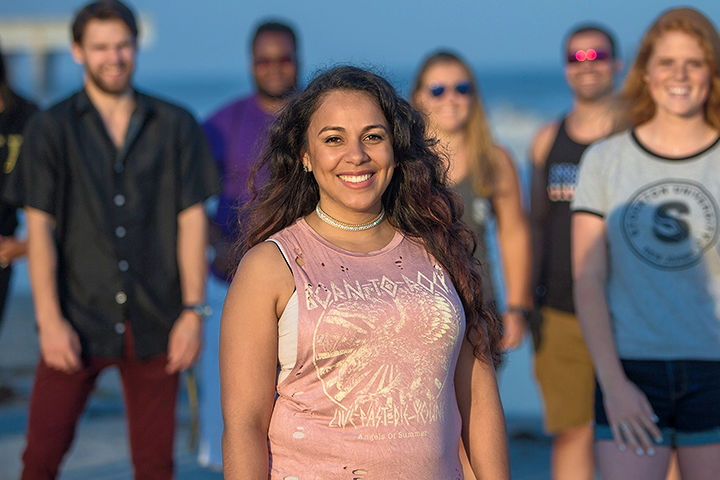 By next fall, the doors to the new Atlantic City residential campus will open and the first wave of Stockton students will benefit from the opportunity of beachfront living and learning.
Located on the beach and Boardwalk, and situated in the heart of the Chelsea neighborhood, Stockton's new presence will enable students, faculty and staff to immerse themselves in a vibrant city, offering possibilities to engage with community members on research, internships and service-learning projects.
A Space for New Perspectives
As construction continues, excitement surrounding the new campus grows.
"Just as the bricks and steel of the new Atlantic City campus are coming together, we are sharing information with local community groups, residential associations and business and professional organizations on plans for the AC campus, and we are learning from their perspectives," said Brian K. Jackson, chief operating officer of the Atlantic City Campus.
This fall, Jackson and Haley Baum, associate director of Residential Life, are leading Jitney shuttle tours from Stockton's main campus to Atlantic City.
"We are giving guided tours for students, faculty, staff and alumni. We walk the neighborhood so we can visit some of the local businesses near the AC campus and highlight some of the wonderful amenities that exist in the Chelsea neighborhood," Jackson explained. "Faculty and staff have also toured various neighborhoods and residential options in Atlantic City."
Last spring, Stockton held its first commencement at Boardwalk Hall in Atlantic City. Jackson said the event "sent a strong, positive message to the community that Stockton is serious about its commitment to Atlantic City. With over 10,000 attendees, businesses, restaurants, boardwalk shops and hotels all benefited from Stockton relocating its commencement to Boardwalk Hall."
Anchor Institution
Stockton already operates several community-based initiatives and was recently designated an anchor institution by the state of New Jersey, in large part because of the campus and its projected impact on the social, cultural and economic development of southern New Jersey, said Michelle McDonald, associate vice president for Academic Affairs.
Anchor institutions are place-based organizations with a vested interest in their communities. They often influence local economies, and can attract a diverse and educated workforce.
"As an anchor institution, we will continue to seek participation and advice from local community members in helping to determine the direction and role of the AC campus," Jackson said. "We hope that creative alliances and community-based activities will enhance the pride of place."
Civic Engagement
With the addition of hundreds of students on the Atlantic City campus, more community engagement is planned.
"Our commitment to civic learning and community engagement is an integral part of Stockton's mission. It will be a cornerstone of the Atlantic City campus," McDonald said.
Stockton was recognized for its commitment to the community with the inaugural Civic Learning and Engagement Award by the American Association of State Colleges and Universities (AASCU).
"Stockton's Office of Service-Learning and Center for Community Engagement (SCCE) are the leaders of civic engagement and community-based initiatives at the University," McDonald said. "Some of their programs already have a presence in Atlantic City, including the Homework Completion Program, Naturalization Class, Campus Kitchen, Summer Arts workshops, 48 Blocks public art and the Activist in Residence."
Atlantic City By the Numbers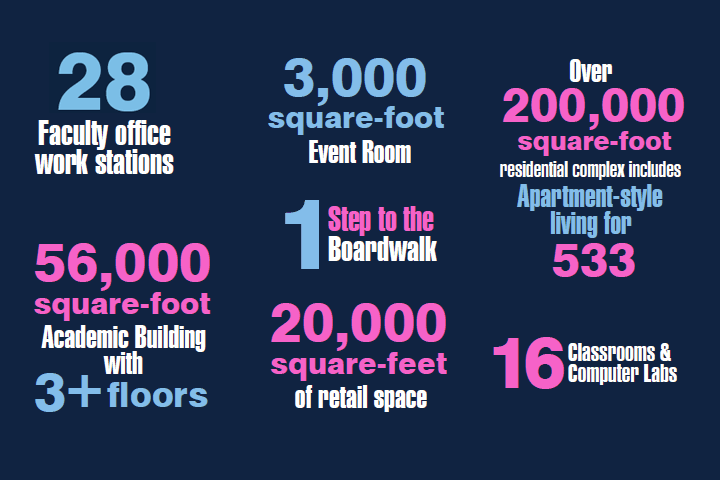 View Stockton's Atlantic City campus website for more information.