Osprey News

Women's Volleyball Captures 13th NJAC Title, Competes in NCAA Tournament
Stockton University captured the 2019 New Jersey Athletic Conference (NJAC) title with a 3-1 victory over Rowan University on Nov. 9. The title is the first for Stockton since 2015 and 13th overall in the program's history.
The title victory scored Stockton a trip to the NCAA Tournament, the 12th time for the Ospreys.
The Ospreys defeated Penn State Behrend in their first-round match at Johns Hopkins University with a 3-0 sweep. Jocelyn Holobetz tied her career-high with 12 kills to lead Stockton. Julie Kohlhoff contributed 11 kills and Sarah Walsh added eight.
The team fell in the second-round to undefeated Johns Hopkins, who are currently ranked sixth in the nation by the American Volleyball Coaches Association.
The defeat brought Stockton's season to an end with a 31-4 record, tying the second-highest win total in school history.
---
One Team, Three Individual Athletes Join Stockton Athletics Hall of Fame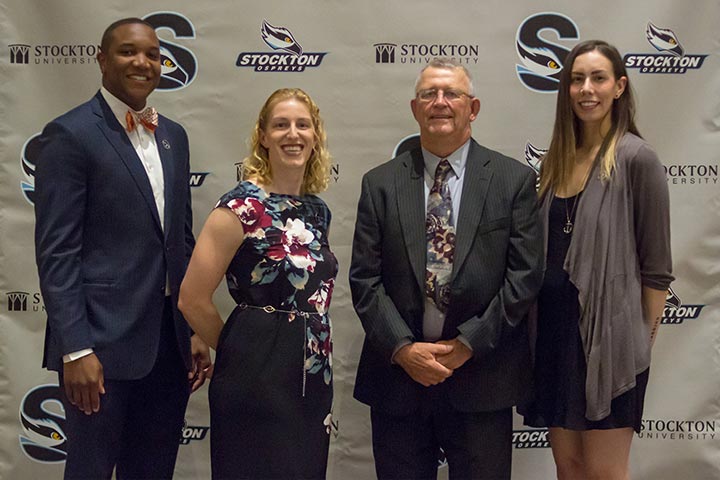 Stockton University selected one team and three individuals to comprise the 2019 class of the Stockton Athletics Hall of Fame. The group features an NCAA Tournament runner-up squad, two All-Americans and an athletic administrator who was instrumental in helping to shape the Stockton athletics program over his 34 years on the staff.
The 2019 honorees are the 2008-09 Men's Basketball Team, Stephanie Warner (volleyball), Audra Schappell (track & field) and Paul Chambers (distinguished service).
The 2008-09 Men's Basketball Team is celebrating the 10th anniversary of its run to the NCAA championship game and national runner-up finish. The squad finished the season at 30-3, setting a school record for wins. The Ospreys placed first in the NJAC regular season standings, won the NJAC Tournament and amassed 18 consecutive wins on their path to the NCAA title game.
The honorees were inducted at a banquet on Oct. 11 as part of University Weekend.
---
Men's Basketball Wins Tip-Off Championship in Overtime
Stockton's men's basketball team won the Stockton Tip-Off Championship with an 83-74 overtime win over Albright on Nov. 16. DJ Campbell contributed 22 points, eight rebounds and two steals to boost the Ospreys to victory.
Stockton never trailed during the first half, but their biggest margin was just six points over the Lions during the stanza. Campbell and Jordan Taylor led the Ospreys with six and five points respectively and the home team led 27-24 at the break. Albright led 67-61 with 30 seconds left, but the Ospreys scored the last six points of regulation. Campbell nailed a three-ball and then hit three foul shots with four ticks on the clock to send the game to the extra period.
It was all Ospreys during the five-minute frame, outscoring Albright 16-7. Five points by Campbell, four foul shots by Kyion Flanders and three points each from Taylor and Jonathan Azoroh sealed the victory.
Visit the Stockton Athletics website for more Osprey News.