Science Enrichment Academy (SEAS)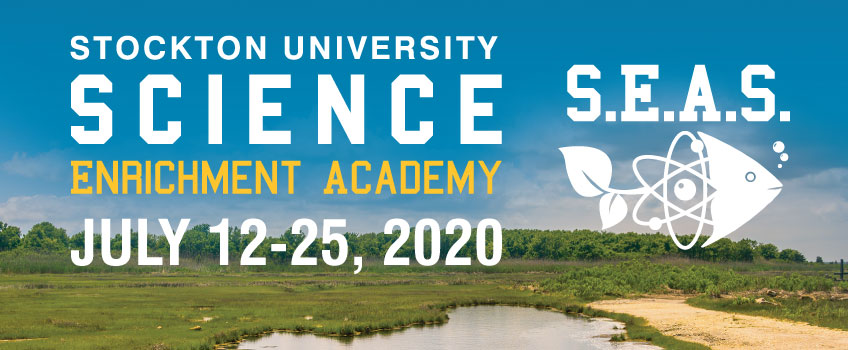 Participants who complete the SEAS program will receive
2 college credits at no additional cost!
The Science Enrichment Academy at Stockton (SEAS) is a two-week, residential, college-level interdisciplinary summer program for talented high-school students entering their senior year. SEAS introduces students to scientific issues and interdisciplinary techniques for addressing scientific questions. Students make new intellectual and emotional connections as they explore challenges through scientific, social, economic, philosophical, ethical, and political perspectives. Students will be involved in classroom, laboratory, and field experiences as well as an overnight camping trip and will gain experience gathering, measuring and analyzing data through the process of scientific inquiry.
SEAS 2020 will run from July 12 - 25, 2020. Attendance fee for student campers is $1,200, with the opportunity for scholarship to be determined on financial need and academic achievement. Rates include room and board, three meals daily, field trips and instruction by Stockton faculty.
This summer's camp has been cancelled.
Additional Information: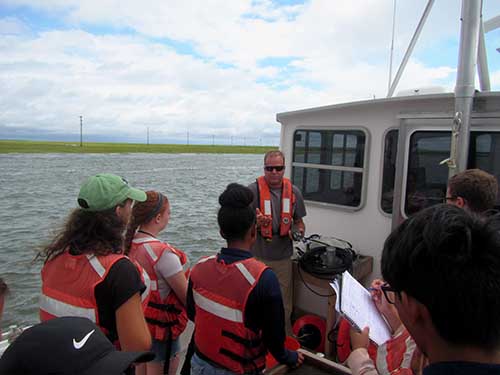 The goal of SEAS is to ignite a spark of interest and curiosity in students. At SEAS, students spend time around scientists who can give a first-hand account of what real science research is like. We want to show them the interdependence of the sciences: Biology, Chemistry, Mathematics, Physics, Environmental, and Marine science.
We hope not to simply interest our students with fun facts and exciting demos and experiments, but to give them a profound understanding of why and how things work. We will leave it to them to make observations and rediscover the Laws of Nature, following in the footsteps of scientists from the time of ancient Greece to the present day.
We believe that students need to be immersed in an environment where they are able not only to learn new things from real scientists in the classroom but more importantly be able to communicate with them outside the classroom. Our goal is to make SEAS an unforgettable experience for everyone – one that might change the way those who participate look at the world around them. We will teach you to ask the right questions and introduce you to people who can help find the right answers.

IS SEAS RIGHT FOR YOU? IT IS IF YOU…
Are passionate about Biology, Chemistry, Math, Environmental science and Marine science
Want to earn college credit
Tend to view problems and challenges from multiple perspectives
Want to connect with like-minded students, college students, and faculty through classroom, laboratory and field work
Enjoy exploring natural areas both intellectually and aesthetically
Want to explore outdoor environments in ways that are hands-on and intellectually grounded
Believe that change is possible and want to better understand how you can contribute
SEAS is unique among STEM studies programs in its focus on the interdisciplinary nature of scientific issues and the complexity of potential solutions. By connecting students with over 12 college faculty from a myriad of disciplines, the SEAS program empowers students in ways that catalyze real personal growth. Students find specific topics, sessions and ideas that resonate with them individually, but are also exposed to other ideas and ways of thinking about scientific issues that broaden their framework for thinking about and developing solutions when working with others.
How can we use science to describe and understand our environment?
During SEAS, students conduct research with Stockton University faculty members on the R/V Petrel, Stockton's newest 36-foot research vessel; in classrooms; laboratories; the Marine Field Station and Coastal Research Center; local streams, rivers and bays; the Pygmy Pines; State forests and wildlife refuges. In the field and in the classroom, students explore the ways in which data can be used to monitor changes in the environment and discuss how science serves as the backbone for understanding environmental issues.
---
Sample Curriculum
The list below provides a brief description of typical academic sessions.
Math and Data – Judith Vogel
Session 1: What is Math?
This session will explore the difference between Math in a K-12 setting and college level mathematical thinking. It will display the creativity behind the job of a mathematician and will illustrate the role of a mathematician as an explorer. Students will be given math problems that are non-procedural to think about and solve. We will illustrate deep mathematical concepts by exploring the "Math" we learned in grade-school. Pattern recognition and proofs will be tied together through vertical integration of topics.
Session 2: Modeling: Answering Questions that have no answers
This session will focus on one of the most important aspects of Mathematics: Modeling. Models are used in all of the sciences and social sciences to answer questions relevant to the world around us. However, models can never give perfect answers. As mathematicians, our goal is to create good models that supply reasonable and reliable data. The math is in the model creation as well as the model analysis. We will use this session to discuss models in general and also models specific to the projects that students will conduct during the SEAS program.
Session 3: The Math behind the Data
This session will investigate the mathematics involved in data collection and data analysis.
Topics will include…
Flaws in data collection; when it is unreliable; what strategies can we use to increase its reliability.
The mathematics behind the measures of data, e.g. mean, median, quartile, etc. Why what you've been taught is wrong!
Difficulties in organizing and analyzing large data sets.
Difficulties in organizing and analyzing small data sets.
When are outliers irrelevant and when are they the most important piece of information given.
How to address "problem' data points in data analysis. g. outliers, unreliability, etc.
data processing; Human vs. Machine and how we communicate with each other.
Session 4: Excel/Projects
This session will give students the opportunity to work on organizing and analyzing their own data for their group projects. A short lesson will be given on using Excel to produce visual aids for data collected.
The Chemistry of Scent and Fragrance – GorDan "Tyson" Reeves
Smells are all around us, and from the production of food and medicine to how we understand flavor and taste, the sense of smell has played a significant role in human development. Chemistry, and a fair bit of biology, is integral to nature of smell and essential to modern perfumery. My module for SEAS will consist of a lecture and lab component briefly discussing the chemistry of scent and fragrance. The lecture will cover several topics including scents of natural origin and how they are obtained (extraction & distillation) and synthetic scents and musk derived from terpenes, benzene, phenol and several aliphatic materials. We will also cover the use of these synthetics scents in production of soaps and shampoo. The lecture will conclude with a discussion of esters, which will segue into the lab component.
Marine Species Collection and Identification, Environmental Resource Protection and Sustainability, Wilderness Guide – Dr. Adam Aguiar
Session 1: Angling Experience at Sandy Hook Gateway National Park
Students learn to be safe, responsible, and efficient anglers on the beaches of Sandy Hook Gateway National Park. This hands-on fishing experience educates students about beach dangers. This includes identification and avoidance strategies for rip-currents and potentially harmful species (sting rays, jellyfish, biting fish, etc.). They will learn specific types of:
Angling Techniques

safe casting
cutting/hooking bait
how to properly handle and release a fish
potentially how to fillet a fish (pending luck provides one to be kept)

The components/functions of fishing gear

engineering aspects of rod and reel parts
various line material applications
knot tying
terminal tackle uses
hook types and sizes

Fishing strategies

enhancing catch efficiency by understanding/exploiting a specific specie's behavioral patterns

Species Identification

Species caught and/or observed are discussed in terms of their potential uses to humans, methods for handling, regulations in place to sustain their populations
Learning such skills in this way will undoubtedly foster an appreciation for marine environments, and an interest in biology.
Session 2: Species Collection and Identification Through Seining the Bay
Students learn how to collect and identify various marine organisms via the method of seining. This also familiarizes them with data acquisition as they record their findings. These data can potentially be used for students' final SEAS projects, or even toward further research projects in the future. These seining activities will be done in various bay locations in NJ (pending on weather conditions). Additionally, the group nature of this collection technique will help to develop peer relationships and communication/leadership skills.
Session 3: Fossil Hunting at Big Brook Park
Session 4: Camping and Outdoor Safety
Session 5: Fishing Simulation of Environmental Resource Sustainability
Directors, Staff and Faculty
Each year, SEAS has over 20 highly dedicated directors, staff and faculty involved who reflect a variety of backgrounds and perspectives regarding the sciences.


The program directors and administrative staff have backgrounds in science, science education, and leadership.


Stockton University students who work intensively to provide each student with a high-quality, engaging and rewarding experience.


Full-time members of the Stockton University faculty serve as the instructional staff of SEAS. The wide variety of faculty expertise makes SEAS a unique experience.
Accepted Student Payment
The cost of the camp is $1,000 with scholarship opportunity based on need and academics.
Non-refundable acceptance fee of $200 is due upon acceptance to the program. This fee will be applied to the student's registration balance.
Students who applied for the scholarship program will be notified by June 15 of their award.
All campers balance of registration must be made in full for the entire amount by July 1, 2020. Paid amounts less than the registration price will be automatically refunded and campers will not be registered. Fee includes all meals, room and board, classes, and field trips.
I have questions about...