Mark Sullivan
Professor of Marine Science


BIOGRAPHY
Dr. Mark Sullivan received his M.S. degree in Marine Environmental Science from SUNY Stony Brook and a Ph.D. in Marine Biology and Fisheries from the University of Miami Rosenstiel School of Marine and Atmospheric Science. His dissertation research investigated the effects of mobile fishing gear on recently settled yellowtail flounder relative to natural processes on the New York Bight continental shelf. He completed a post-doctoral position at the Rutgers University Marine Field Station examining the linkages between supply and environmental variability for American eel glass eels and summer flounder larvae along the U.S. mid-Atlantic coast. Mark is currently an Associate Professor in the Marine Science program at Stockton University where he continues to work on research themes related to locally and federally managed fisheries.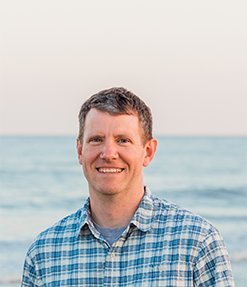 EDUCATION
Ph.D., University of Miami, Marine Biology and Fisheries
M.S., SUNY Stony Brook, Marine Environmental Science
B.S., Tulane University, Ecology, Evolution, Organismal Biology


AREAS OF EXPERTISE
Ichthyology, ecology of early stage fishes in estuarine and continental shelf ecosystems, anthropogenic stressors as sources of coastal marine ecosystem variability, cooperative fisheries research.
COURSES TAUGHT
MARS 2201 Introduction to Marine Biology (w/lab)
MARS/BIOL 3340 Introduction to Ichthyology (w/lab)
MARS 3307 Fisheries Science and Management (w/lab)
MARS 1100 Survey of Ocean Life
GNM 1123 Fisheries in Crisis
GNM 2142 Sharks: Myth and Reality
ENSC 5013 Field Methods
ENSC 5320 Ocean Sustainability
---
RESEARCH INTERESTS
His research broadly focuses on the role of larger-scale phenomena (fishing activity, regional oceanography, climate change) as sources of variability for marine and estuarine species, primarily fishes (yellowtail flounder, American eel, summer flounder, blue crab, etc.). He employs a variety of techniques (collections in the field, time series analysis, experimental manipulations, marine technology) in order to gain a better understanding of the relative contributions of these impacts to local ecosystems. This work by nature is highly collaborative – he enjoys working with a talented and diverse group of colleagues and stakeholders both inside and outside of Stockton. His long-term goal is to implement the above themes into a research program that (1) helps fishery managers make informed decisions with respect to commercially and recreationally important species and (2) encourages cooperative and rewarding partnerships between fishery scientists, stakeholders, and managers alike.

PUBLICATIONS
Able, K., T. Grothues, M. Shaw, S. VanMorter, M. Sullivan, and D. Ambrose. 2020. Alewife (Alosa pseudoharengus) spawning and nursery areas in a sentinel estuary: spatial and temporal patterns. Environmental Biology of Fishes 103:1419-1436. https://link.springer.com/article/10.1007/s10641-020-01032-0
Sullivan, M., S. Evert, P. Straub, M. Reding, N. Robinson, E. Zimmermann, and D. Ambrose. 2019. Identification, recovery, and impact of ghost fishing gear in the Mullica River-Great Bay Estuary (New Jersey, USA): stakeholder-driven restoration for smaller-scale systems. Marine Pollution Bulletin 138:37-48. https://www.sciencedirect.com/science/article/pii/S0025326X18307707
Toth, J., S. Evert, E. Zimmermann, M. Sullivan, L. Dotts, K. Able, R. Hagan, and C. Slocum. 2018. Annual residency patterns and diet of Phoca vitulina concolor (Western Atlantic Harbor Seal) in a southern New Jersey estuary. Northeastern Naturalist 25(4): 611–626. https://www.eaglehill.us/NENAonline/articles/NENA-25-4/16-Toth.shtml
Musumeci, T., K.W. Able, M.C. Sullivan, and J.Smith. 2014. Estuarine predator-prey interactions in the early life history of two eels (Anguilla rostrata and Conger oceanicus). Environmental Biology of Fishes 97:929-938.

Straub, P.F., S. Evert, T.L. Luke and M.C. Sullivan. 2013. Mapping of artificial reef habitats by side scan sonar and ROV in the northwestern mid-Atlantic coastal ocean. In: Lang M. and M.D.J. Sayer, eds. Proceedings of the AAUS/ESDP Curacao Joint International Scientific Diving Symposium, October 24-27, 2013, Curacao. American Academy of Underwater Sciences. Dauphin Island, AL,
pp: 331-338.

Able, K.W., M.C. Sullivan, J.A. Hare, G. Bath-Martin, C. Taylor, and R. H. Hagan. 2011. Larval abundance of summer flounder (Paralichthys dentatus) as a measure of recruitment and stock status. Fishery Bulletin (U.S.).109(1):68-78. https://www.st.nmfs.noaa.gov/spo/FishBull/1091/able.pdf

Sullivan, M.C., M.J. Wuenschel, and K.W. Able. 2009. Inter- and inter-estuary variability in ingress, condition, and settlement of the American eel (Anguilla rostrata): Implications for estimating and understanding recruiting. Journal of Fish Biology (Special Issue: Anguilid eel biology, conservation, and management) 74:1949-1969.

Sullivan, M.C., K.W. Able, J.A. Hare, and H.J. Walsh. 2006. Anguilla rostrata glass eel ingress into two U.S. east coast estuaries: Patterns, processes, and implications for adult abundance. Journal of Fish Biology 69:1081-1101.

Sullivan, M.C., R.K. Cowen, K.W. Able, and M.P. Fahay. 2006. Applying the basin model: Assessing habitat suitability of young-of-the-year demersal fishes on the New York Bight continental shelf. Continental Shelf Research 26:1551-1570.

Sullivan, M.C., R.K. Cowen, and B.P. Steves. 2005. Evidence for atmosphere-ocean forcing of yellowtail flounder (Limanda ferruginea) recruitment in the Middle Atlantic Bight. Fisheries Oceanography 14:386-399.

Sullivan, M.C., R.K. Cowen, K.W. Able, and M.P. Fahay. 2003. Effects of anthropogenic and natural disturbance on a recently settled continental flatfish. Marine Ecology Progress Series 260:237-253. http://www.int-res.com/articles/meps2003/260/m260p237.pdf

Sullivan, M.C., R.K. Cowen, K.W. Able, and M.P. Fahay. 2000. Spatial scaling of recruitment in four continental shelf fishes. Marine Ecology Progress Series 207:141-154. http://www.int-res.com/articles/meps/207/m207p141.pdf