Peter F. Straub
Professor of Biology
BIOGRAPHY
Dr. Straub is currently a Professor of Biology at Stockton University. He received post-doctoral training in molecular biology from Washington University in St. Louis after completing a Ph.D. at the University of Delaware, College of Ocean, Earth and Environment. Dr. Straub has been a visiting researcher at the National Oceanic and Atmospheric Administration (NOAA) Fisheries laboratory in Sandy Hook and a seasonal Scientist at the Mt Desert Island Biological Laboratory in Salisbury Cove, ME. Dr. Straub currently is involved in research using sonar to map and remove marine debris such as lost crab traps from local bays and waterways (http://www.wecrabnj.org/).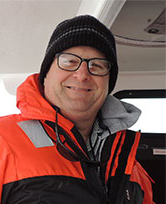 EDUCATION
Ph.D., Marine Studies, University of Delaware (1990)
M.S., Marine Studies, University of Delaware (1985)
B.S., Marine Science, Stockton University (1980)


AREAS OF EXPERTISE
Coastal and Estuarine biology, genetics, scientific diving, sonar and underwater mapping
COURSES TAUGHT
Cells & Molecules
Genetics
Botany
Medical Botany
Biotechnology
Scientific Diving
Tropical Marine Biology
Caribbean Biology
Marine Survey Methods
Tide Marsh Ecology
---
RESEARCH INTERESTS
Coastal and Estuarine environments. Mapping underwater habitats with sonar. Underwater operations with scuba diving and Remotely Operated Vehicles (ROV). Genetics of marine organisms.

PUBLICATIONS
Straub, P.F., S.D. Nagiewicz, V.J. Capone, D. Lieb and S.P. Evert, (2015). Mapping the 1860 Wreck of the US Coast Survey Vessel Robert J. Walker. In: Lobel, L. K. ed. Diving for Science 2015: Proceedings of the 34thAmerican Academy of Underwater Sciences Symposium. September 28th-October 3, 2015, Key West, FL. American Academy of Underwater Sciences. Dauphin Island, AL, pgs. 100-106. ISBN 978-0-9962343-0-6

Straub, P.F., S. Evert, T.L. Luke and M.C. Sullivan (2013). Mapping of artificial reef habitats by side scan sonar and ROV in the northwestern mid-Atlantic coastal ocean. In: Lang M. and M.D.J Sayer, eds. Proceedings of the AAUS/ESDP Curacao Joint Interantional Scientific Diving Symposium, October 24-27, 2013, Curacao. American Academy of Underwater Sciences. Dauphin Island, AL, pgs: 331-338. ISBN: 978-0-9800423-7-5. NJSG-13-843.

Straub, P. F. and T. L. Harmer Luke (2008) DNA sequencing of 18s ribosomal RNA genes of the Northern Star Coral (Astrangia poculata) collected from New Jersey artificial reefs. In: In: Brueggeman P, Pollock NW, eds. Diving for Science 2008. Proceedings of the American Academy of Underwater Sciences 27th Symposium. Dauphin Island, AL: AAUS.pgs: 167-174. ISBN 978-0-9800423-2-0