Tara L. Harmer Luke
Professor of Biology / BCMB
BIOGRAPHY
Dr. Luke joined Stockton in 2004 after completing a postdoctoral fellowship at Harvard University where she studied chemoautotrophic bacteria at Deep Sea Hydrothermal Vents. Prior to that, she earned her Ph.D. at Johns Hopkins University studying transcriptional regulation in the arabinose operon in bacteria. She earned a B.A. in Biology with specialization in Marine Science at Boston University. She has conducted research at Deep Sea Hydrothermal Vents, 2500 M below the surface of the Pacific Ocean by diving in the Deep Submergence Vehicle Alvin. Dr. Luke was also part of the shore-based science team for NOAA's telepresence-endabled 2016 Deepwater Exploration of the Marianas expedition, which involved exploring deep sea habitats using a Remotely Operated Vehicle (ROV).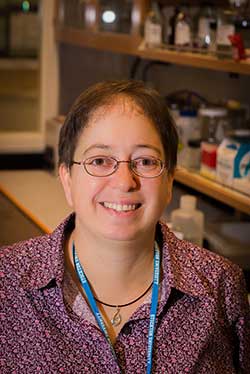 EDUCATION
Ph.D. Johns Hopkins University,
Baltimore, MD
B.A. Boston University
AREAS OF EXPERTISE
Molecular Systematics, Bioinformatics, Deep Sea Hydrothermal Vents, Marine Microbial Ecology, Underwater Technology, Molecular Biology, Transcriptional Regulation
COURSES TAUGHT
Biodiversity and Evolution (BIOL 1400)
Genetics (BIOL 2110)
Genetics Laboratory (BIOL 2115)
Deep Sea Biology (BIOL/MARS 3333)
Underwater Robotics (MARS 3337)
Bioinformatics (BIOL4110)
Molecular Evolution (BIOL 4211)
Exploring the Deep Sea (GNM 2264)
Microbial Ecology, Underwater Technology, Molecular Biology, Transcriptional Regulation
---
RESEARCH INTERESTS
My current research involving undergraduates focuses on molecular characterization of local marine ecosystems, including shipwrecks and artificial reefs off the coast of New Jersey.
PUBLICATIONS
Straub, P.F., Evert, S., Harmer Luke, T.L., and Sullivan, M.C. 2013. Mapping of Artificial Reef Habitats by Side Scan Sonar and ROV in the Northwester Mid-Atlantic Coastal Ocean. Proceedings of the Joint International Scientific Diving Symposium, American Academy of Underwater Sciences and European Scientific Diving Panel. 331-338
Bates, Amanda E., Harmer, Tara L., Roeselers, Guus, Cavanaugh, Colleen M. 2011. Phylogenetic Characterization of Episymbiotic Bacteria Hosted by a Hydrothermal Vent Limpet (Lepetodrilidae, Vetigastropoda). Biological Bulletin. 220: 118-127.
Straub, P.F. and T.L. Harmer Luke. 2008. DNA Sequencing of 18s Ribosomal RNA Genes of the Northern Star Coral (Astrangia poculata) Collected from New Jersey Artificial Reefs. Proceedings of the American Academy of Underwater Sciences 27th Symposium. 167-174.

Harmer, T.L., R.D. Rotjan, A.D. Nussbaumer, M. Bright, A.W. Ng*, E. DeChaine, and C.M.Cavanaugh. 2008. Free-living tubeworm endosymbionts found at deep-sea vents. Applied and Environmental Microbiology. 74 (12): 3895-3898.
Scott, K.M., M. Henn-Sax, T.L. Harmer, D.L. Longo*, C.H. Frame*, and C.M. Cavanaugh. 2007. Kinetic Isotope Effect and Biochemical Characterization of Form IA RubisCO from the marine cyanobacterium Prochlorococcus marinus MIT9313. Limnology and Oceanography. 52(5), 2199–2204.
Scott, K.M., S.M. Sievert, F.N. Abril, L.A. Ball, C.J. Barrett*, R.A. Blake, A.J. Boller, P.S.G. Chain, J.A. Clark, C.R. Davis, C. Detter, K.F. Do, K.P. Dobrinski, B.I. Faza, K.A. Fitzpatrick, S.K. Freyermuth, T.L. Harmer, L.J. Hauser, M. Hügler, C.A. Kerfeld, M.G. Klotz, W.W. Kong, M. Land, A. Lapidus, F.W. Larimer, D.L. Longo*, S. Lucas, S.A. Malfatti, S.E. Massey, D.D. Martin, Z. McCuddin, F. Meyer, J.L. Moore, L.H. Ocampo Jr., J.H. Paul, I.T. Paulsen, D.K. Reep*, R.L. Ross*, P.Y. Sato, P. Thomas, L.E. Tinkham, and G.T. Zeruth. 2006. The Genome of Deep-Sea vent Chemolithoautotroph Thiomicrospira crunogena XCL-2. Public Library of Science Biology. Vol. 4, No. 12, e383.
Schwedock, J., T.L. Harmer, K.M. Scott, H.J. Hector, A.P. Seitz, M.C. Fontana*, D.L. Distel, and C.M. Cavanaugh. 2004. Characterization and Expression of Genes from the RubisCO Gene Cluster of the Chemoautotrophic Symbiont of Solemya velum: cbbLSQO. Archives of Microbiology. 182:18-29.
Mix, L.J., T.L. Harmer, and C.M. Cavanaugh. 2004. Sequence of the Core Antenna Domain from the Anoxygenic Phototroph Heliophilum fasciatum: Implications for Diversity of Reaction Center Type I. Current Microbiology. 48:438-440.
Van Dover, C.L., S. E. Humphris, D. Fornari, C. M. Cavanaugh, R. Collier, S. K. Goffredi, J. Hashimoto,M. Lilley, A.L. Reysenbach, T. M. Shank, K. L. Von Damm, A. Banta, R. M. Gallant, D. Götz, D. Green, J. Hall, T.L. Harmer, L.A. Hurtado, P. Johnson, Z. P. McKiness, C. Meredith, E. Olson, I. L. Pan, M. Turnipseed, Y. Won, C. R Young III, R.C. Vrijenhoek . 2001. Biogeography and ecological setting of Indian Ocean hydrothermal vents. Science. 294:818-823.
Harmer, T.L., M. Wu, and R.F. Schleif. 2001. The role of flexibility in DNA looping-unlooping by AraC. Proceedings of the National Academy of Sciences. 98: 427-431.
Harmer, T.L., and R.F. Schleif. 2001. The C-terminal end of AraC tightly binds to the rest of its domain. Journal of Biological Chemistry. 276(7): 4886-4888.
Harmer, T.L. 2000. Connecting two AraC DNA binding domains with linkers. Ph.D. Thesis. Johns Hopkins University. 98 pp.
Widmaier, E.P., T.L. Harmer*, A.M. Sulak*, and T.H. Kunz. 1994. Further characterization of the pituitary- adrenocortical responses to stress in Chiroptera. Journal of Experimental Zoology. 269:442-449.