Gordan Grguric
Associate Professor of Marine Science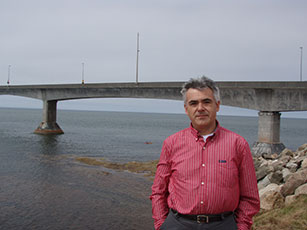 BIOGRAPHY
Principal investigator of a bromate modeling project in a closed seawater system
researched inorganic ozonation by-products in seawater
collaborated with scientific and management personnel at The Living Seas aquarium to maintain the chemical balances in the system
analyzed interstitial water from estuarine sediments for a variety of parameters
produced computer models for maintaining (1) seawater ratios of major ions, and (2) pH and alkalinity in artificial seawater systems
analyzing seawater chemistry in a variety of closed systems
conducting studies on bay water chemistry in Great Bay, New Jersey
EDUCATION
Ph.D., M.S., Florida Institute of Technology
B.S., Lehigh University
AREAS OF EXPERTISE
Seawater aquarium chemistry, redox processes, interstitial water, physical and chemical modeling of closed seawater systems.
COURSES TAUGHT
Program teaching: Introduction to Oceanography, Oceanography II, Marine Chemistry Laboratory and Analysis of Seawater and Sediments
General Studies teaching: The World Ocean and Our Living Planet
---
RESEARCH INTERESTS
I lead a research group in Marine Chemistry. The basis of our work is chemical analysis of samples from a variety of marine environments. Our laboratory is located at the Marine Field Station. Ongoing projects include measurements of salinity (chlorinity), pH, alkalinity and major seawater ions for the local estuarine waters. Field work in Great Bay includes sampling of sediments and analysis of sediment pore water for sulfide, sulfate, ammonia, pH, redox potential and other parameters.


PUBLICATIONS
Grguric G, Komas J. A. and Gainor L. A. (1999) Differences in major ions composition of artificial seawater from aquarium tanks at the New Jersey State Aquarium. Aquarium Sciences and Conservation 2, 145-159.
Grguric G., Wetmore S. S. and Fournier R. W. (2000) Biological denitrification in a closed seawater system. Chemosphere 40, 549-555.
Grguric G., Sondey C. J. and DuVall B. M. (2000) Carbon and nitrogen fluxes in a closed seawater facility. The Science of the Total Environment 247, 57-69.
Grguric G. (2002) Denitrification as a model chemical process. Journal of Chemical Education 79(2), 179-182.
Kupchik M. J. and Grguric G. (2005) Interstitial water nutrients at several sites in Great Bay, New Jersey. American Society for Limnology and Oceanography - Aquatic Sciences Meeting.
Kaba J. R. and Grguric G. (2008) Major ion concentrations versus chlorinity in a low tide surface transect, Great Bay Estuary, New Jersey. Atlantic Estuarine Research Symposium.
Troselj M., Matetic M. and Grguric G. (2009) Building an expert system module for World Ocean thermocline analysis: thermocline qualitative modeling. MIPRO 2009 Conference.
Vera R., Valenti J. L. and Grguric G. (2014) Lateral and vertical variations in inorganic parameters throughout Mullica River-Great Bay Estuary. New Jersey Water Environment Association Conference.